Chemeen Vindaloo (prawns Vindaloo)
Vindaloo is a Portuguese influenced dish prepared by Goan primarily. There is a small population of Anglo Indians, who reside in Kerala and they prepare most dishes prepared in Goa with a small variation. This recipe is from an Anglo-Indian friend of mine from Cochin. We worked together at a restaurant for some time and I took note of his grandmother's recipe. Vindaloo basically means a curry with vinegar and garlic and these are the predominant flavours of a true vindaloo. It tastes best when cooked with pork or beef but seafood is a good option too. The prawns I got hold were small and so I added some potatoes to stretch the curry for 4 people. The use of drumstick tree's bark or scale is a particular ingredient of this recipe. It highlights the vindaloo flavour. It is difficult to get this but I have a tree in our apartment that belongs to the caretaker who lives behind the apartment, so I manage to get mine every time. This ingredient can be omitted but it will impact the flavour.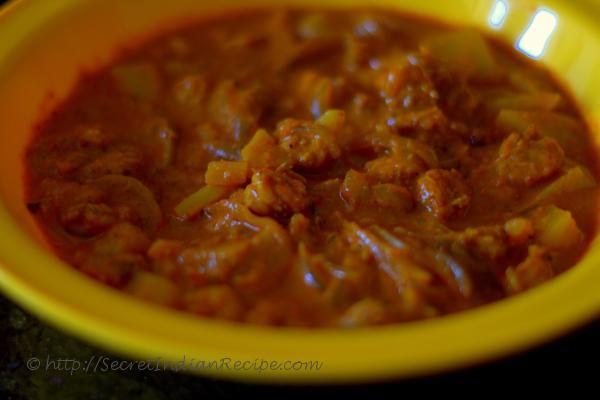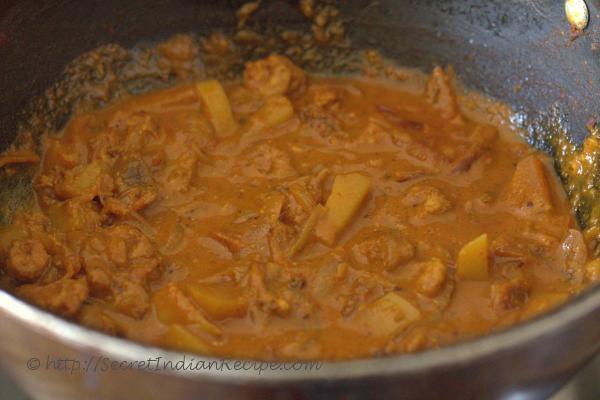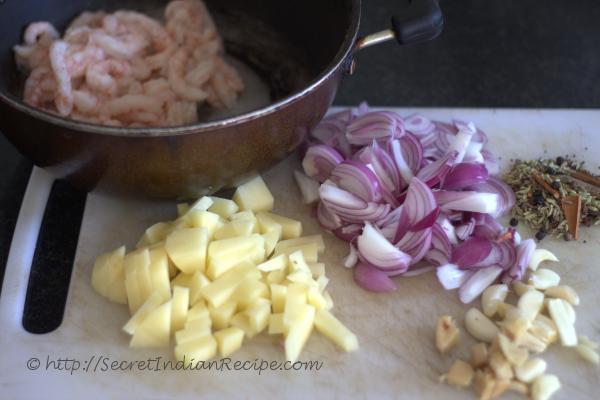 Ingredients:
Prawns- 600 g
Potatoes- 150 g
Ginger- 1 inch piece
Garlic- 12 cloves
Drumstick peel- 1 small piece
Kashmiri Chili- 15
Cinnamon- 1/4 inch long piece
Mustard seeds- 1 tsp
Fenugreek seeds- 1/2 tsp
Cloves- 2
Cardamom-1
Peppercorns- 1/2 tsp
Cumin seeds- 1 tsp
Fennel seeds- 1 1/2 tsp
Coriander seeds- 1 tbsp
Chili powder- 1 tsp
Turmeric powder- 1/2 tsp
Vinegar- 2-3 tbsp
Salt- to taste
Oil- 2 tsp
Onions- 2
Directions:
Roast the cumin seeds, mustard seeds, fennel, coriander, cinnamon, Kashmiri chillies, cardamom, cloves, for 2-3 minutes. Add chili powder and turmeric powder towards the end and roast it slightly too. Do this over low flame.
Grind the spices with the drumstick peel, ginger, garlic and vinegar to a fine paste in a grinder. Heat oil in a pan and saute the onions.
When the onion browns, add the ground masala paste and saute for- 5-6 minutes till the raw smell of spices goes away.
Add the de-veined prawns and potatoes followed by salt and cook till the potatoes and prawns are well cooked. Check the salt levels and add more if needed.
Add a little vinegar especially if you find the gravy bitter a little vinegar can help. Let the curry simmer for 5- 7 minutes after this over low flame.
Serve with some rice.
Other Indian Recipes that you may Like !