Chemmeen Muringa Manga Curry (prawns Cooked With Drumsticks And Raw Mango)
With the advent of summers, raw mangoes dominate a lot of our curries. It gets substituted for tamarind in all seafood preparations. This curry is an amazing combination with drumsticks, raw mango and prawns in coconut based gravy. The tangy flavour of mangoes gets compensated with the sweetness of the coconut and drumstick lends this curry an earthy touch. Smaller the prawns the tastier this curry gets especially if the prawns is from backwaters. Use of coconut oil is a must in this curry and if cooked in an earthen pot this curry tastes awesome a day later.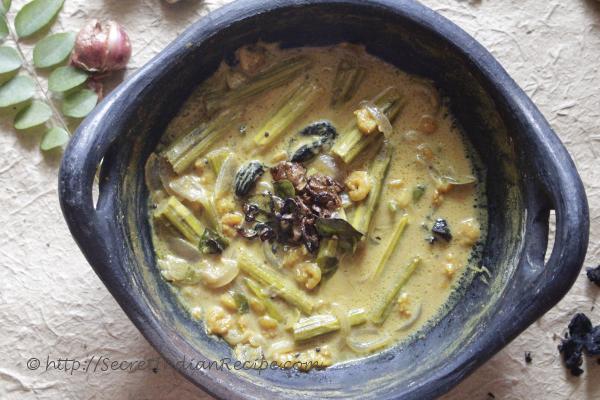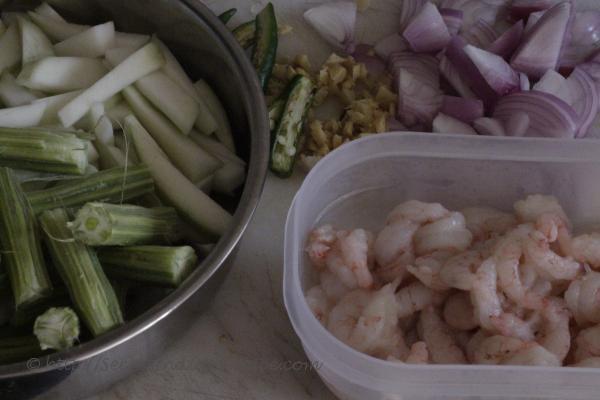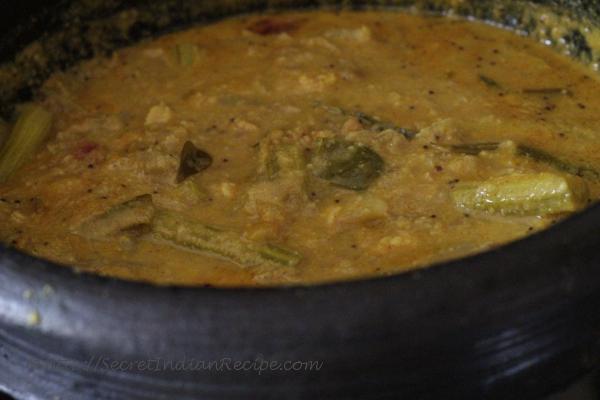 Ingredients:
Prawns- 200 g
Drumsticks- 2
Raw Mango- 1/2 a medium size mango
Onions- 2
Ginger- 1 inch long piece
Green Chilies-4
Turmeric Powder- 1 tsp
Salt- to taste
Coriander powder- 1 1/2 tbsp
Grated coconut- 1 full coconut
Curry leaves- 6-8 leaves
Mustard seeds- 1 tsp
Shallots- 1/4 cup
Coconut oil- 3 tbsp
Directions:
Peel and devein the prawns. Peel the mango and slice into small pieces.
Clean the drumstick and cut into small pieces. Heat oil in a earthen pot and add mustard seeds.
When the mustard seeds splutters, add the sliced onions, curry leaves, ginger and green chilies.
When the onions wilt, add the turmeric and coriander powder. Saute for 4-5 minutes and add the chopped mango, drumstick and prawns.
Add 1 cup water and salt and cook the ingredients till the prawns and drumsticks cook.
Meanwhile grind the coconut with 1/2 cup water into a fine paste.
When the drumstick is cooked add the ground coconut paste and bring the curry to boil. Let it simmer on slow flame.
Meanwhile, heat a small pan and add some oil, add the finely chopped shallots and fry till they brown.
Add the browned shallots to the curry and let it simmer. Switch off the flame in 5 minutes and serve the curry with rice or rotis.
Other Indian Recipes that you may Like !