Cherupayar Kuzhachathu Or Cherupayar Curry (green Gram Curry With Coconut)
Kanji (Rice soup) with cherupayar is a very popular traditional combo from the cuisine of Kerala. It is supposed to be the healthiest food. Even in this fast food age, people come back to have a plate of hot kanji with cherupayar to relax and to have a good and healthy meal. As a child I never used to like it but now I really enjoy it. It is such a tasty dish.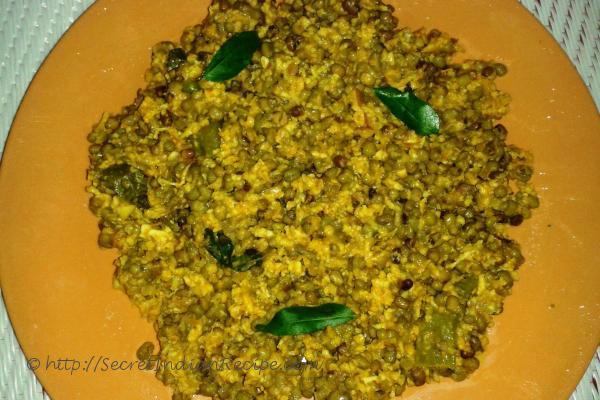 Ingredients:
Cherypayar or green gram - 100 grams.
Grated coconut - 1/2 cup.
Chilli powder -1 teaspoon.
Turmeric powder - 1/4 teaspoon.
Cumin seeds - a pinch.
Green chilli - 2 nos.
Curry leaves - 2 sprig.
Coconut oil - 2 tablespoon.
Salt- as you need.
Directions:
Soak the green gram or cherupayar overnight.
Switch on the stove and place a pressure cooker on the stove.
Add the soaked green gram with water, salt, green chilli and turmeric powder into the pressure cooker.
Cook it until you hear one whistle.
Then grind the coconut, roughly with chilli powder, and cumin seeds.
Add the grounded coconut into the already cooked green gram and bring it to boil until the raw flavour of the chilli powder is gone.
Reduce the flame and add curry leaves into it.
Pour the oil over the curry and remove it from flame.
After two minutes, stir the curry well, so that the oil gets mixed up with the curry.
Cherupayar kuzhachathu is ready to serve.
Footnotes:
It can be also used as a curry for breakfast dishes, and lunch dishes too.