Chicken Cafreal (goan Style Chicken Cafreal)
My oldest memory of having chicken cafreal was as a kid when I visited mom's friend. But I think she did a chicken fry with cafreal masala. The flavours of Goan curries are so strong, earth and pungent, that it would make you a die-hard fan of their cuisine. I love all Goan dishes that don't use coconut. And years down the lane, while surfing the net I came across chef Aditya Bal's recipe of chicken cafreal which was a semi dry dish. I am not a fan of chicken fry, so I thought I would give this curry a try. I over did it a bit and added a bit more vinegar than required but the spices was just perfect, just like I had in my childhood. Oh yes, I can remember flavours from my childhood. I have added potatoes in this dish which is just my preference you can omit this step.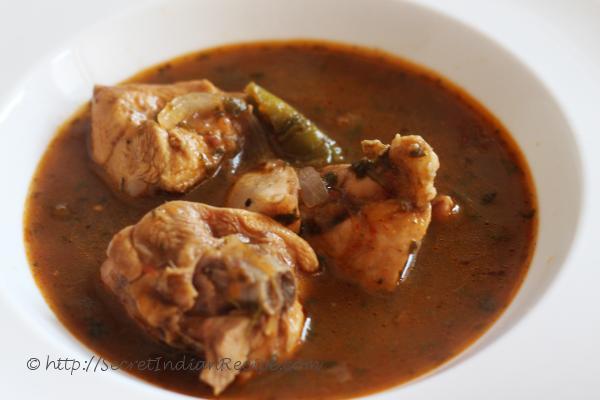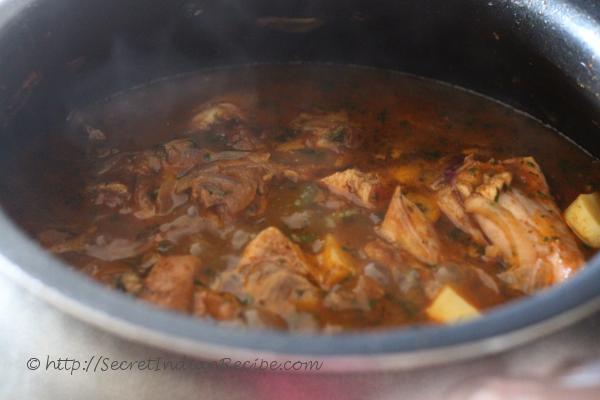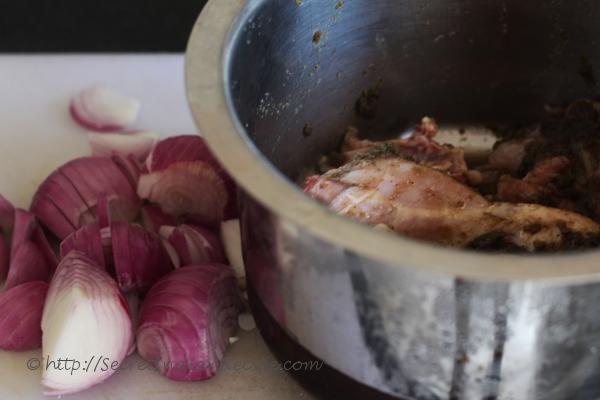 Ingredients:
Chicken- 1 kg
Cinnamon- 2 sticks
Cloves- 2 tsp
Cumin seeds- 2 tsp
Coriander seeds- 2 tsp
Pepper- 2 tsp
Ginger- 1 inch long piece
Garlic- 6-9 cloves
Onions- 2
Green chilies- 5
Turmeric Powder- 1/2 tsp
Sugar- 2 tsp
Chopped coriander leaves- 1/2 cup
White vinegar- 2 tsp
Oil- 3 tsp
Potatoes- 3 (optional)
Directions:
Roast the cinnamon,pepper,cloves, coriander seeds and cumin in a frying pan and grind together in a grinder along with sugar, garlic, ginger, green chilies and coriander leaves.
Marinate the chicken with this paste, salt and vinegar. Ideally you should marinate the chicken overnight but even if you did not have time to do this overnight, marinate the chicken for 3 hours at least.
Refrigerate after marination. After the marination overnight(or 3 hrs) heat oil in a pot. Add chopped onions and saute till they brown.
Add the marinated chicken and cover and cook the chicken till it is succulent and tender. Chicken will release sufficient water to form semi dry gravy.
Garnish the curry with some chopped coriander leaves and serve with rice.
If you plan on adding the potatoes, add them after you add the marinated chicken. Add 1 cup water for the potatoes to cook and cover the pot for 15 minutes.
The chicken and potatoes will cook over low flame and you can garnish the curry with some chopped coriander.
Footnotes:
Some recipes recommend roasting the green chilies before grinding in few drops of oil.
Other Indian Recipes that you may Like !