Chicken In Coconut Cream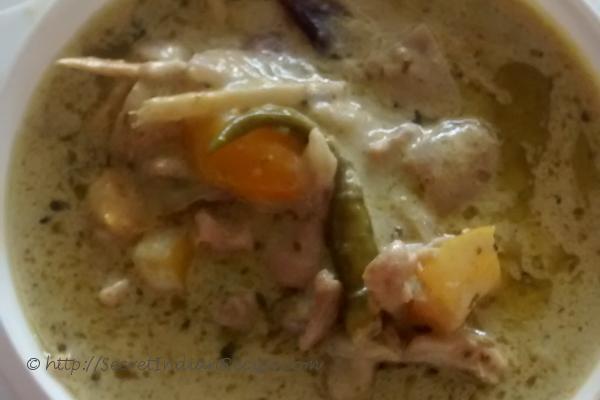 Ingredients:
Boneless Chicken - 100 grms
Green, Red, Yellow bell peppers - 1 each cut into 1 inch sq
Onion - 1 cut into 1 inch sq
Ginger - 5-6 julians
Salt to taste
Basil leaves - few
Fresh cream 2-3 tea spoin
Coconut cream/milk 100 ml
Oil - 4-5 tablespoon
Green pest.( green chillies, garlic,basil leaves,roots of coriander leaves- to be grounded and turned into smooth paste)
Directions:
Heat oil in the pan.
Add onion and let it cook for 30 seconds.
Add capcicums and cook it for another 20 sec. Add ginger Julian's too.
Now add the green peste and stirr it for 30 sec.
Add chicken pieces and salt and cook it covered for 15 mintues.
Now time to put coconut cream and stir it
Add cream to the muxture
Add water as per the required consistency. Put the basil leaves at this time. Just break the leaves and put it.
Put the lid on the pan and let the chicken cook for 10-15 min
After 15 min add fresh cream finally
Plate it with ginger Julian's topping and serve hot with rice
Footnotes:
If you have oregano. U can put some oregano also to give more flavour.
You can use other vegetables also like mushrooms, carrots etc.
Other Indian Recipes that you may Like !