Chicken Curry
Living in a hostel I miss my mothers cooking especially her all time best Chicken Curry... So I had to learn the recipe exactly the same way she cooks.. Sharing her recipe here for the contest :) DO you miss your mums cooking?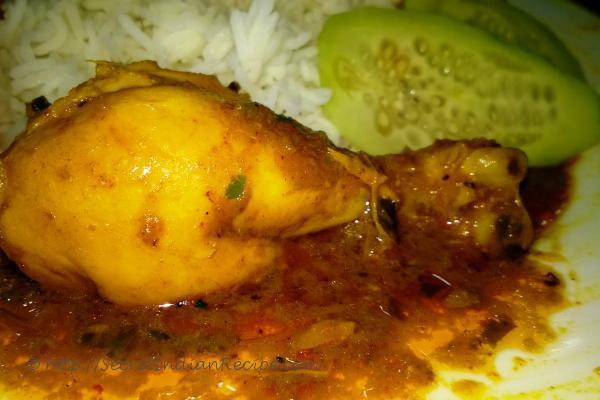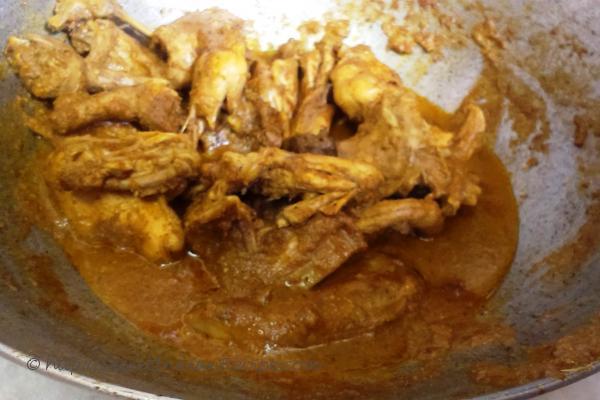 Ingredients:
Chicken - 500 grams
Onion - 4 medium sized
Tomato - 2 medium sized
Ginger and Garlic paste - 2 tablespoon
Roasted cumin powder - 2 tablespoon
Roasted Black Pepper powder - 1/2 tablespoon
Turmeric powder - 1/2 tablespoon
Garam masala powder - 1/2 tablespoon
Salt to taste
Mustard or veg oil - 6 tablespoon
Directions:
Wash the chicken pieces with water and keep aside. If you are using packaged chicken, then wash it with lukewarm water as it helps in killing bacteria and then keep aside.
Chop onion and and tomatoes into fine pieces and keep aside.
Then heat oil in a pan over medium heat. Add the chopped onions and fry then till they start turning a little brown. Now add the chopped tomatoes and continue to fry…..As they turn soft and mushy and release the oil from sides, add ginger and garlic paste. Keep sauteing the masala for another 2-3 mintues to ensure that the raw taste of garlic and ginger is gone.
Now it is time to add roasted spices, cumin powder, Black pepper powder, turmeric powder and garam masala. Add two tablespoon water along with the masala to avoid burning. Mix all and then put the chicken pieces. You need not fry the dry powder masala since they are alraedy roasted and will be further cooked with chicken.
Keep the flame low and cover the pan with a lid. After 5 mintues, just give a careful stir and then close the lid again. Wait for 10 mintues, the chicken will release water and will turn a little whitish. Add 1 cup of water and salt and mix. The quantity of water depens upon how long you need to cook the chicken. Approximately after adding a cup of water it will take 20 mintues to cook.
After 20 mintues, check if the chicken is well cooked. Switch off the gas and serve the chicken curry with steamed rice or Roti
Footnotes:
My mum says It is always advised to eat country chicken than packaged ones.
Other Indian Recipes that you may Like !