Chicken Curry
#IndianChickenRecipes
Chicken curry cooked with four kinds of spices and mustard oil. It has authentic Indian flavor. Adding lots of cilantro to the curry brings out more exotic flavor and the key to make much tastier curry.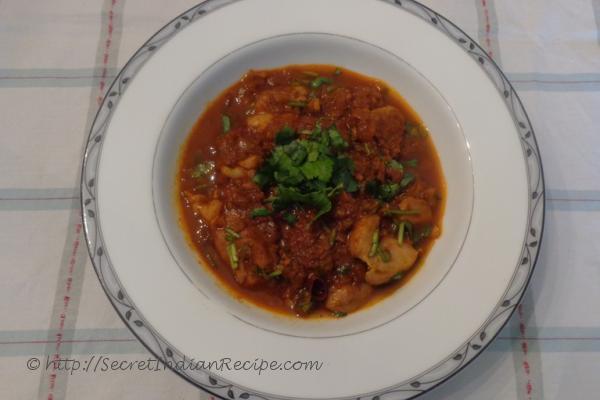 Ingredients:
2 Boneless, skinless Chicken thighs
2 cloves Garlic
1 Medium sweet Onion
1 teaspoon Grated Ginger (from fresh ginger)
1 tablespoon Mustard Oil
1 teaspoon Cumin seed
2 tablespoons Tomato paste
2-3 Dried Red chilies
2 tablespoons Ground Coriander
2 teaspoons Ground Turmeric
2 teaspoons Chili powder
1 teaspoon Salt
1/4 teaspoon Sugar
2 cups Water
1/2 cup Packed chopped Cilantro
Directions:
1. Cut chicken thighs into bite size. Peel and mince onion. Mince dried red chilies and remove seeds. Peel and grate garlic clove.
2. In a medium-large pot, heat mustard oil over medium low heat. Add cumin seed and cook stirring frequently until fragrant. Stir in onion and cook stirring frequently until lightly browned. Stir in red chilies, garlic, ginger and tomato paste and keep cooking, stirring constantly until all ingredients are blended well.
3. Add chickens to the pot and cook until chickens are no longer pink. Stir in coriander, turmeric and chili powder. Then add water, salt and sugar to the pot, increase the heat to medium and bring to a boil.
4. Reduce heat to low and simmer partially covered with lid for 20-25 minutes stirring occasionally.
5. Stir in cilantro and keep simmering for another 10 minutes.
Other Indian Recipes that you may Like !