Chicken Cutlet
Chicken cutlet is a non vegetarian snack. It is made up of minced chicken pieces which is mixed with spices and then is rolled over beaten egg and bread crumbs and fried.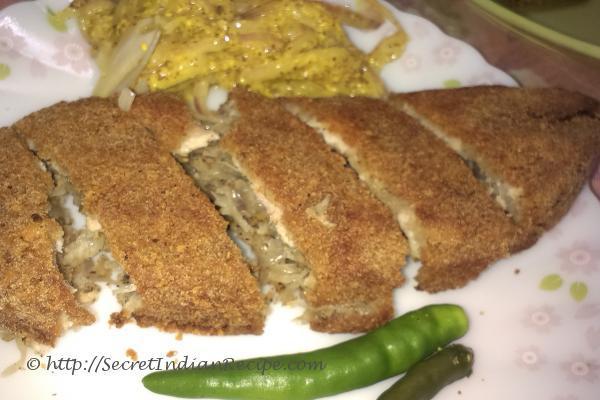 Ingredients:
Minced chicken - 150 grams
Chopped onion - 1/2 bowl
Ginger paste - 1 tablespoon
Green chilli paste - 1/2 tablespoon
Black pepper powder - 1/2 tablespoon
Salt - 1 tablespoon
Egg - 2
Bread crumbs - 1/2 cup
Lemon juice - 2-3 tablespoon
Oil for frying
Directions:
Take the minced chicken in a large bowl and add onions, garlic paste, green chilli paste, black pepper powder, lemon juice and salt and mix well. Marinate it for 30 mintues.
Beat egg with a pinch of salt and keep aside
After 30 mintues, Take portions of chicken and mould into oval cutlet shape. if you face any problem in binding add some mashed potatoes or a tablespoon of refined flour.
Heat oil for frying cutlets.
Now dip each cutlet, first in beaten eggs and then on a bed of bread crumbs and fry on medium heat till it turns golden brown. Serve with kasundi or mint chutney
Other Indian Recipes that you may Like !