Chicken & Egg Fried Rice (indian Chinese Style)
Me and my mother experiment a lot on weekends in the the kitchen. This recipe was the result of one such experiment. It turned out so good that it has become a regular in our our Sunday meals. My mum has mastered this recipe.. #MothersDayRecipeContest
I have never written a recipe before but this one is specially for Mom... I hope her recipe wins :)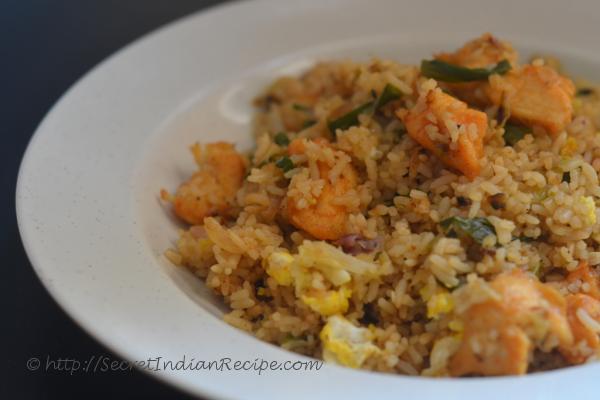 Ingredients:
Chicken Boneless: 200 gms (Small cubes)
Chilli Garlic Sauce: 3 Tbsp
Tomato ketchup: 3 Tbsp
Vinegar: 1 Tsp
Rice Flour: 1/2 Tbsp
1 day old Cooked Rice: 1 Cup
Spring Onions and green: 1/2 cup each (Keep seperate)
Eggs: 3 nos
Onion: 1
Pepper Powder: 1 Tsp
Salt to taste
Garlic Minced: 1 Tsp
Oil: As mentioned in directions
Light Soya sauce: 1 tbsp
Directions:
In a bowl mix the sauces, Rice flour and vinegar. Add the chicken to it and let it marinate for 30 mins
After it is well marinated, heat 4 Tbsp oil in a pan or wok. When hot, add the chicken cubes and stir fry till its 80% cooked or till all vinegar evaporates
Remove and keep aside
Whisk the eggs in a bowl. In the same wok add more Oil - about 2 tbsp. When hot add the whisked eggs, add salt and pepper to taste and make like a burji. When cooked remove and keep aside
In the same wok, add 5 tbsp oil, when hot add, minced garlic give a quick mix, add spring onions stir fry for 1 min, add light soya sauce and add the chicken. Cook for about 3 mins, add the rice and mix everything well
At this stage you may add 1 tbsp each of tomato ketchup and chilli sauce (optional)
Add the cooked eggs and pepper to taste and stir fry everything for at least 5 mins on high heat while continuously stirring.
You may check for salt, the sauces contain high salt so add accodingly.
Add the spring onion greens give it a good mix. Cook for 1 min more and remove from heat
Serve hot with other indian chinese side dishes
Other Indian Recipes that you may Like !