Chicken Hakka Noodles (indo-chinese Style Chicken Noodles)
I have tried writing this post thrice already and have never been able to complete it for various reason. I am hoping I do today. So it so happens that for the first time I made noodles because I had excess chicken in my refrigerator. Maybe it all began with this news on Maggi and MSG, I stopped having noodles which used to be one of my hubby's favourite breakfast. Now to cure his noodle pangs I thought I would do some spaghetti. That's when I got an order for a noodle salad and I was left with this chunky chicken, veggies and hakka noodles. I turned them into this. I forsake ajinomoto but gave a flambe for a smoky flavour and it worked.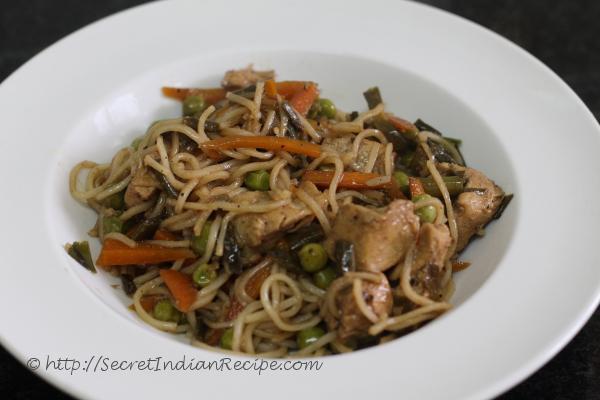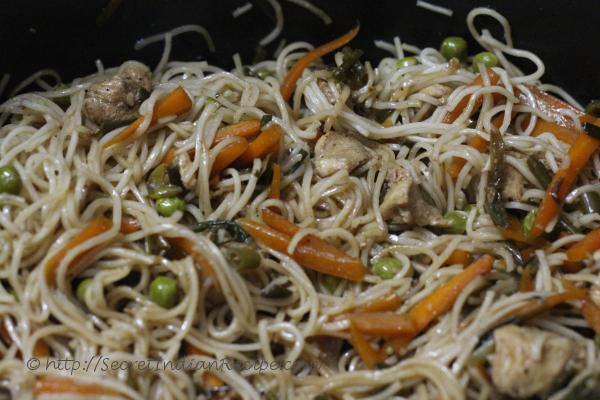 Ingredients:
Hakka noodles- 500g
Chicken- 200g (Boneless)
Carrots-2
Capsicum- 2
Green peas- 1/2 cup
Spring onions- 2 bunches
Soy sauce- 2 tsp
Garlic- 4 cloves
Salt- to taste
Sesame oil- 3 tsp
Pepper powder- 1 tsp
Directions:
Boil the hakka noodles as per package instructions. I prefer undercooked noodles so that when it goes in to the vegetables for second round it stays non-sticky.
So I take the noodles when it is just cooked and strain in a colander. I pour cold water to arrest the noddles from cooking further.
In a pan add the oil and pan fry or pan sear the chunky chicken. It will leave some grease and cooking the veggies in this would be great.
Brown the chicken chunks be turning over both sides to ensure even browning. Once the chicken has browned set aside in a plate.
In the same pan now add the garlic and saute for 2-3 minutes. Add the chopped spring onions after this and saute for another 5 minutes.
Toss the chopped veggies and green peas in followed by salt. Keep tossing the veggies and turn the flame high. The tossing will ensure that you do not burn the veggies on high flame.
Do not overcook the vegetables so keep tossing. Add soy sauce and pepper powder after 5 minutes of adding the veggies. And give a thorough stir. Now add the brown chicken and cooked noodles.
Cook till the noodles is well cooked for this lower the flame and cover the pan with a lid. It would take 5-8 minutes for the noodles to cook.
Serve the noodles with ketchup or manchurian gravy.
Footnotes:
For flambe I use brandy. I make a well in the centre of the noodles and place a small bowl with a little brandy. I try to tilt the pan so that fire catches onto the brandy.
This brings a flame and smoky flavour to the noodles. This is risky so be careful with this.
Another option is to heat a coal and place it in a steel bowl when it is red hot. Add a tsp of ghee and this coal will start to smoke.
Place this coal in the bowl inside the noodles and cover the pan with a lid tightly. It will give a smoky flavour to the dish.
Remove the lid after 30 minutes.
Other Indian Recipes that you may Like !