Chicken Keema Tikkia (minced Chicken Dumpling In Thick Gravy)
Calcutta, now Kolkata was the capital of India during Mughal period. Mughals were very fond of good food and popularizing their food culture. Even today you will find lot of big restaurants like ' Shiraz', 'Arsalan', 'Amenia' and few small food joints in Kolkata selling Mughal food. The quality of Mughal cuisine is determined by its unique rich aroma (due to Kewra water and rose water) and the texture of the food (it melts in your mouth). Here is the recipe for a sinful Chicken Keema Tikia. Originally it is made with mutton keema but I have replaced it with chicken to cook it fast and cut down on my fat consumption.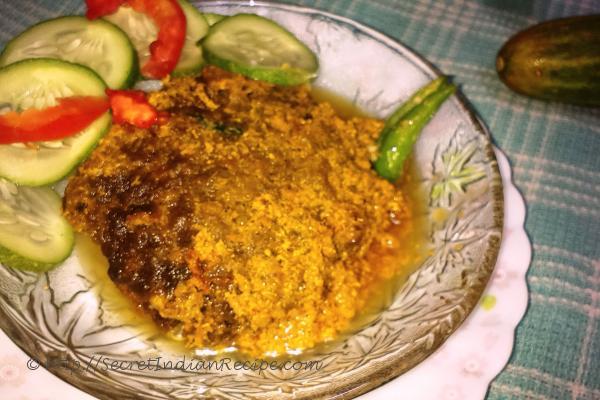 Ingredients:
For Tikkia
Chicken Keema (Minced chicken) -100 grams
Channa dal ( Split Bengal Gram) – ½ cup
Ginger Garlic paste – 1 tablespoon
Green chilli paste – 1 tablespoon
Turmeric powder – ¼ tablespoon
Garam Masala – ½ tablespoon
Salt to taste
Oil for frying.
For Gravy
Onion paste – 2 onions
Ginger garlic paste – 2 tablespoon
Cumin powder -1 tablespoon
Poppy seeds -1/2 tablespoon
Cashew – 10 pieces
Melon seeds – 10
Turmeric powder – ½ tablespoon
Red chilli powder – 1 tablespoon
Kewra water – few drops
Salt – As per taste
Ghee – 2 tablespoon
Oil – 4 tablespoon
Hung Curd - 1/4 cup
Directions:
To make tikkias, first soak the channa dal for at least 2-3 hours and then wash and grind into a smooth paste. Avoid adding water but if required add two to three spoons of water only…..Remember it is used to bind the chicken keema.
Once the dal is grounded, take it in a bowl, add washed chicken keema, ginger -garlic paste, Green chilli paste, Turmeric Powder, Garam masala and salt and mix well using your hands. Then rub little oil on your palm and take small portion of the chicken mixture and shape it like tikkia. Follow it till the mixture lasts. The quantity mentioned in the ingredients will give you four tikkias.
Now take a pan and pour oil for frying the tikkias. Carefully put the tikkias in batches and cook on low flame till the surface turns golden brown….Remember, we are using raw chicken, so it will take some time to cook.
Once the tikkias are done , keep them aside.
In the remaining oil put the onion paste and ginger garlic paste. While it is being fried, take a grinder and grind poppy seeds, cashew and melon seeds together into a smooth paste.
Once the onion and ginger garlic paste is fried, add cumin powder, red chilli powder, garam masala, Turmeric powder, hung curd and the grounded paste. Mix well and continue frying, till the masala releases the oil from sides.
Now add the ghee, salt and kewra water and mix. Carefully place the tikkias in the thick gravy and serve hot.