Chicken Kofta Recipe
Rich in Protien and loaded with flavour. This is an amazing and healthy chicken kofta recipe curry.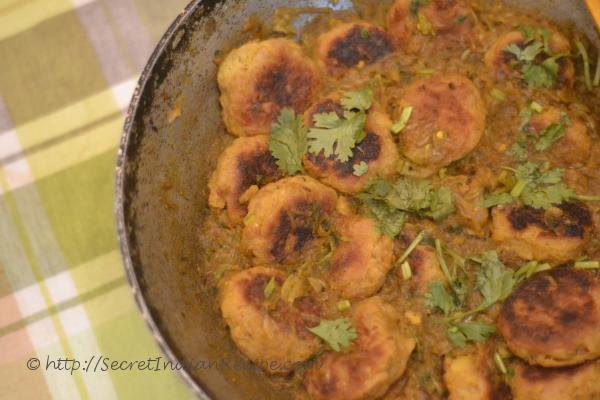 Ingredients:
For Kofta:
Chicken Keema 500 gms
Garlic finely chopped 2 Tsp
Ginger finely chopped 1 tsp
Coriander 1 tbsp
Homemade garam masala 1/2 tsp
Green chilies 1 tsp
Kasoori Methi 1 tsp (optional)
Sugar 1/2 tsp
Salt to taste
Boiled & mashed potatoes 2 big
Roasted Besan Flour 2 heaped tbsp
For Curry:
Red Onions 4
Ginger garlic paste 2 tsp
Tomato 2
Red Chili Powder 1 tsp
Turmeric 1 tsp
Garam Masala 1 tsp
Fresh Coriander leaves for garnishing
Oil for cooking
Directions:
Take the chicken keema and grind it in a blender to a smooth paste
In a bowl, mix the blended chicken keema with all other ingredients mentioned under "for kofta" Mash the potatoes well before adding. And mix all ingredients very well using your hands
Knead them into a smooth dough
If the dough is too watery, add a little more roasted chana
Knead well and make small balls or flat tikki kind of koftas
I like giving a flat pattice like shape to my koftas and half cook them before hand. The flat shape helps in cooking the chicken well
Cover the kotas and set them aside
In a non stick pan heat oil just 2-3 tbsp
Place the koftas in the pan to cook on low heat
Cook on either sides for 3-4 mins each
remove and set aside
In a skillet heat 4 tbsp oil, add onions and salt and saute the onions till pink.
Add ginger garli paste, chili powder, turmeric and mix well
Add tomatoes mix well, cover and cook the masala on low heat for 10 mins
After 10 mis give the masala a quick mix. By now it should have thickened a bit and come together well
Add a little water (about 1/2 a cup)
The consistency should be semi gravy kinds. It should be thick and not runny
No slowly add the chicken koftas and mix
Don't worry about the koftas breaking. These koftas wont break as we have added the potatoes. And cooked them
Cook the koftas covered in curry for 10 mins on low heat
When done remove from heat garnish with fresh chopped coriander and serve
Footnotes:
You may use the chicken keema alone without the potatoes for a heatheir optiong
Other Indian Recipes that you may Like !