Chicken Korma ( Succulent Chicken Cooked In White Gravy)
Korma is a white creamy curry preparation that has its roots in Mughlai Cuisine In India. It has a slight sweet taste to it. Perfect chicken dish for people who cannot take hot Indian food. Chicken korma is on the menu of almost every North Indian restaurant in India. I have tried to replicate the restaurant taste through this recipe. Do try cooking this and share your thoughts and suggestions on how can the dish be improved.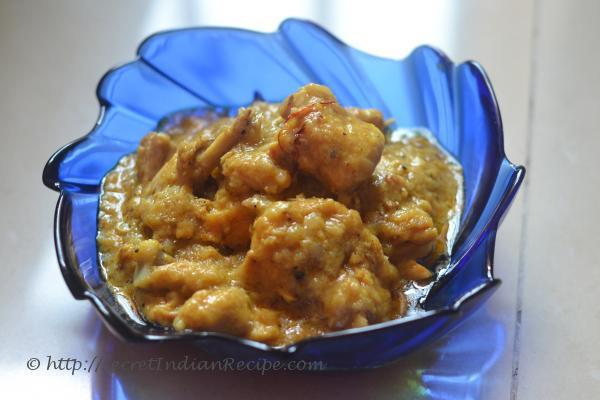 Ingredients:
Boneless chicken - 250 grams
Ginger - garlic paste - 2 tablespoon
Red chilli powder - 1/2 tablespoon
Garam Masala - 1/4 tablespoon
Almonds - 8-10 pieces
Curd - 2 tablespoon
Tomato Puree of - 1 small size tomato
Cardamom - 1 piece
Fried Brown Onion paste - 1 small size
Refined oil - 4-5 tablespoon
Butter - 2 tablespoon
Cream- 1 Tbsp
Directions:
Marinate the chicken with onion paste, ginger garlic paste, red chilli powder , crushed cardamom and curd for an hour.
Soak almonds in water for an hour and then grind into smooth paste.
Heat oil in a pan and add the chicken. Sauté for 3-4 seconds till the chicken starts changing the colour.
Add tomato puree , salt and garam masala and mix. Put a lid on and cook on low heat for 10 minutes.
Now add the almond paste and butter and mix.
Cook on low heat for another 10 minutes or till the chicken is done.
Garnish with cream and Serve with Roomali roti or jeera rice
Footnotes:
You can add some rose and kewra water
For a South India version, you may use coconut cream instead of tomato puree