Chicken Malai Kabab (creamy Chicken Tikka Recipe)
Chicken Malai Kabab is an absolute delicious tikka recipe. These are extremely soft and cooked with cream. This kabab recipe with cheese and eggs blends the creamy, soft and barbecued flavors amazingly well. It requires a two marinade process, but it is worth the time and effort.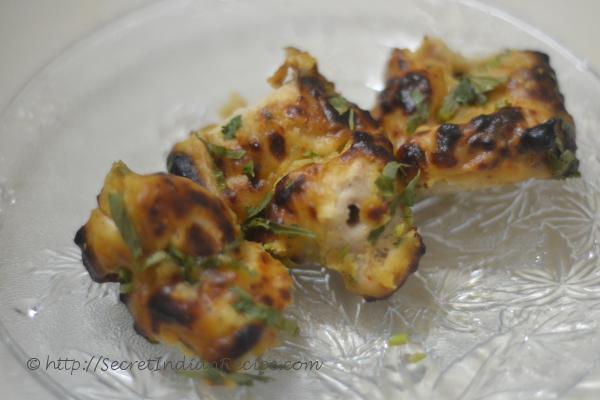 Ingredients:
Boneless chicken thigh - 500 gms
FOR 1st MARINADE
Ginger Garlic paste - 2 &1/2 Tbsp (freshly made, do not used ready made paste products)
Salt- 1/2 tsp (or to taste)
Chili Vinegar- 2 Tbsp
FOR 2nd MARINADE
Greek Yogurt- 1/2 Cup
Cream- 1/2 cup
Cheddar Cheese (grated)- 4 tbsp
Eggs- 2
Cornflour- 1 tbsp
Green chilies finely chopped- 2
Coriander leaves finely chopped- 3 tbsp
Skewers for placing chicken
Directions:
Wash, clean and pat dry the chicken pieces.
In a bowl mix all ingredients from the 1st Marinade and add chicken pieces to it. Massage the chicken well with the marinade
Cover and let it rest for one hour
In a separate bowl, mix all ingredients from 2nd marinade
After an hour of 1st marination, add the 2nd marinade and massage the chicken pieces well again
Keep it in refridgerator to marinate for at least 3 to 4 hours
Soak skewers in water
After 3 to 4 hours, place 3 pieces of chicken on each skewer
Pre-heat oven for 5 mins at 200°C
Grill the chicken in oven for 15 minutes or till tender and slightly golden
Serve hot with onion slices and green yogurt chutney
Footnotes:
Place a tray below the chicken in oven to collect the drippings
Other Indian Recipes that you may Like !