Chicken Malai Kebab (creamy Indian Coal Grilled Chicken)
We own a small restaurant in Delhi. Its run by my mom and aunt. I will be sharing some of their specialities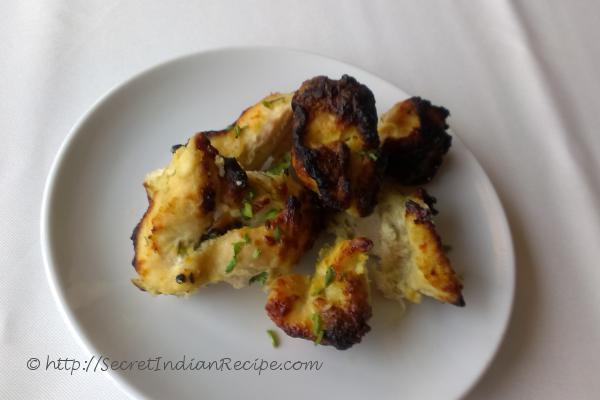 Ingredients:
2 Chicken boneless breast
2 tbsp full fat cream
2 tbsp cheese (mozzarella )
2 tbsp greek yogurt
1/2 tsp raw papaya paste
salt to taste
2 tsp oil
1 tbsp coriander finely chopped
1 tbsp mint leaves chopped
2 green chilies chopped
2 tsp ginger garlic paste
1 tsp mango powder or chaat masala
Directions:
Cut the chicken into bite sizes.
In a bowl mix papaya paste, ginger garlic paste, green chillie.s
Add chicken to this marinade and massage with hands.
Keep in fridge for 1 hour to marinate.
After one hour, in another bowl take yogurt, cheese, cream, salt to taste, oil, coriander, mint mix well.
Transfer the chicken to this marinade and marinate again for 2 hrs.
After marination, heat you oven to 300 degrees skewer the meats and cook in oven for 10 to 15 mins on both sides
use the left over marinade for basting instead of butter or oil
Serve hot with sliced onions and sprinkle mango powder or chaat masala on top
Footnotes:
You may use mozzarella cheese or mascapone cheese