Chicken Nizam (spicy Semi Dry Chicken)
A traditional semi dry chicken recipe. It is little spicy and considered as a side dish of main course. Some herbs are used to give a specific aroma. Sesame seed's paste produces a thick and creamy gravy.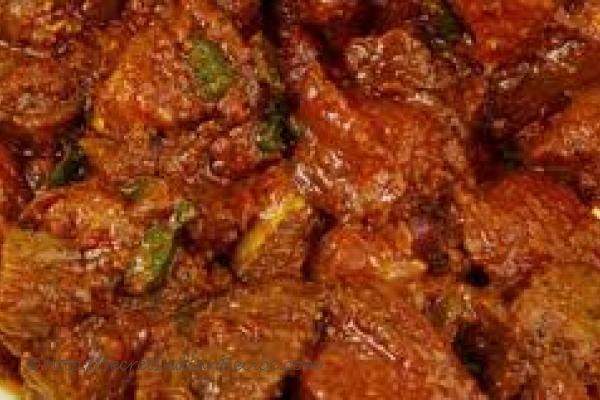 Ingredients:
Chicken small pieces- 500 gm
Ghee or sesame oil - 4 tbsp
Large onion- 3 chopped
Garlic paste- 2 tbsp
Sesame seed's paste- 1 tsp
Milk - 2 cups
Turmeric powder- 1 tsp
Chopped mint and coriander leaves- 2 tbsp full
Coconut paste- 2 tbsp full
Green chili paste – 1 tsp
Salt to taste
Directions:
In a frying pan add 2 tbsp ghee and chopped onion ,fry until brown in color.
Keep aside onion fry, Heat remaining ghee and add garlic and chili paste. after few seconds, add Add sesame seeds paste, salt and turmeric powder.
Cook the spices for 5 minutes when oil or ghee turns to separate add chicken pieces.
Reduce the heat and cover the pan, cook for 15 minutes or till the chicken tenders.
Add coconut paste and increase flame. Stir constantly. Add milk and bring to boil.
Add mint and coriander leaves, cook till it becomes semi dry.
Sprinkle onion fry and serve with roti or naan.
Footnotes:
Posted by Tapashi Dey Food Writer & Blogger
Other Indian Recipes that you may Like !