Chicken Pakora (chicken Nuggets)
Indian cuisine has variety of snacks and the most common is 'Pakora'. It is usually made up of veggies coated in Gram flour or Refined Flour batter and then deep Fried. You can make Pakoras of almost anything like onion, cauliflower, potatoes, any sort of green leafy vegetables. Here I am sharing the recipe of chicken Pakora, wherein I have replaced the veggies with boneless chicken.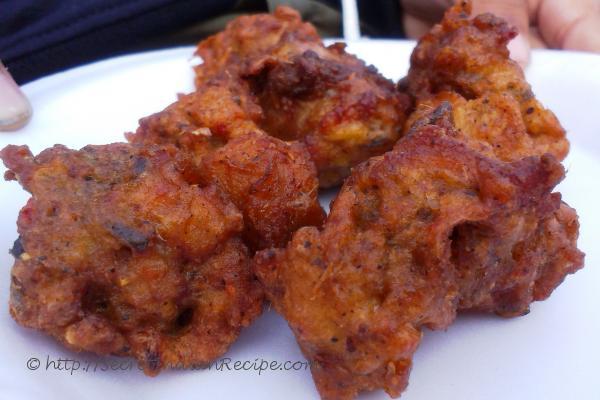 Ingredients:
Boneless chicken – 250 grams
Ginger and garlic paste – 1 and ½ tablespoon
Green Chillies – 2 pieces (Chopped)
Red chilli powder – ½ tablespoon
Turmeric powder – ½ tablespoon
Curd – 2-3 tablespoon
Besan (Gram flour)– ¼ cup
Maida( Refined Flour) – ¼ cup
Salt to taste
Black salt – To sprinkle over the Pakoras.
Directions:
Wash the chicken pieces with fresh water and then keep it in a strainer to drain the excess water.
Once the excess water is drained, pour the chicken in a large bowl. Add chopped green chillies, curd, ginger and garlic paste and required salt and mix……Remember the batter will also have salt. Marinate the chicken for 2-3 hours.
Make a semi thick batter of besan, maida, red chilli powder, Turmeric powder and required salt and keep aside.
Once the chicken pieces are marinated, heat oil for frying pakoras. Take small portions from the marinated chicken and dip it in the besan and maida batter and put in hot oil.
Fry the pakoras on low heat for first 10 mintues and then on medium flame for next 3-4 mintues. This will cook the chicken from inside and will give you a golden crunchy texture outside…..Fry the pakoras in batches to ensure that the chicken is cooked properly.
Sprinkle powdered black salt over the hot pakoras and serve immediately.
Other Indian Recipes that you may Like !