Chicken Rezala
Its a very light recipe among other chicken recipes and easy to digest. This is also suitable for kids, without chilli and too many spices.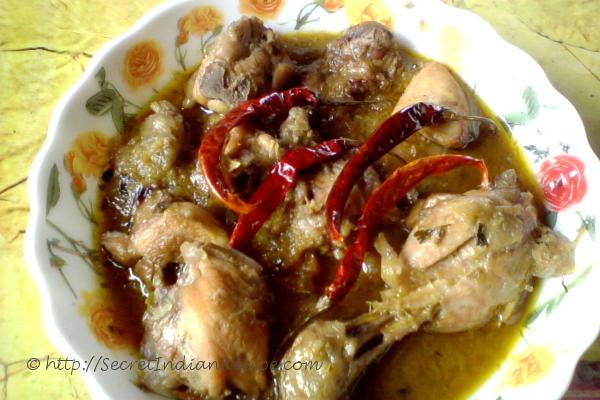 Ingredients:
Chicken- 1Kg
Onion paste- 4 big
Ginger paste- 5tsp
Garlic paste- 5tsp
Poppy seed paste- 2tsp
Cashew nut paste- 2tsp
Cardamom- 4pcs
Clove- 4pcs
Cinnamon- 2 small bark
Red Chilli whole- 4pcs
Salt & Sugar- to taste
Coconut milk/Curd- 1/2 cup
Ghee- 1tsp
Oil- 5tsp
Water- 1/2 cup
Bay leaf- 2nos
Directions:
Add oil in a pressure cooker add whole cardamom, clove, cinnamon & bay leaf and chicken.
Saute the chicken with the spices a little and then add onion,ginger and garlic paste and saute again.
Add salt and sugar, coconut milk, cashew paste and mix well.
Add little water now and close the lid and cook till 2 whistles.
Now in a small pan, heat the ghee.
Add the red chilli to it and take it off the oven within 10 seconds.
Pour the red chilli with ghee on the chicken as toppings and serve hot.
Other Indian Recipes that you may Like !