Chicken Roast
I have borrowed this recipe from my mom. My mom is a wonderful cook who love to cook both veg and non-veg recipes. This is one of my favourite dishes prepared by my mom. This is a spicy chicken dish that can be had with roti or rice. You too will love it for sure.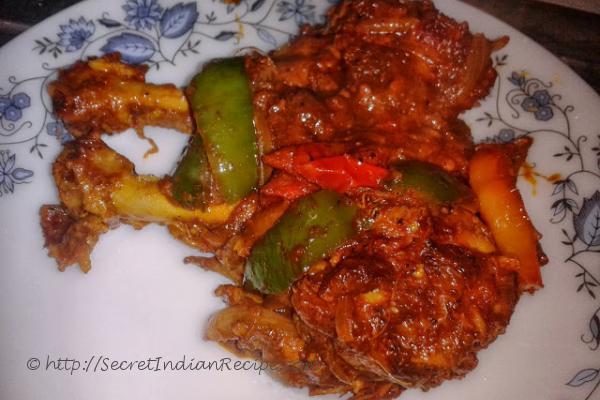 Ingredients:
Chicken leg-2 pieces
Tomato-1
Capsicum-1
Big Onion-1
Small onion-10
Ginger-1 large piece
Garlic- 10 cloves
Turmeric powder- 1 tsp
Red chilli powder- 2 tsp
Pepper powder-1 tsp
Coconut oil- as required
Salt- as required
Water- 2 cups
Directions:
Marinate the chicken leg pieces with salt, turmeric powder and red chilli powder and keep it aside for 15 minutes
Mix the small onion, ginger, garlic and pepper powder in a blender. Divide the mixture into two portions
Mix the first portion of ginger-garlic-onion paste with the marinated chicken leg pieces and add salt as required.
Add 2 cups of water and cook the chicken till the water has evaporated completely.
Chop the Big Onion, Tomato and capsicum into small pieces. Add salt to the onion and capsicum pieces and fry it in a pan until onion turns light brown colour. Now, add tomato pieces and fry it.
Next, add the second portion of the ginger-garlic-onion paste to it. Also, add 1 tsp of turmeric and red chilli powders each.
Add the cooked chicken pieces and 1 tsp of oil and mix well.
When the chicken gets fried well, switch off the gas and remove from flame.
Footnotes:
I have used chicken leg pieces for making this dish. You can prepare the same using any type of chicken pieces.
Other Indian Recipes that you may Like !