Chicken Schezwan (indian Chinese Szechuan Style Chicken Recipe)
Chicken Schezwan/Szechuan is a popular Indian Chinese side dish recipe which is served with fried rice. Its red in color and the preparation is usually very spicy. An advantage of making this recipe is that the Schezwan sauce can be prepared in advance and can be stored in refrigerator for over 10 days. It's a perfect dish when you have unexpected guests. Just toss your chicken or vegetables in the sauce and serve hot.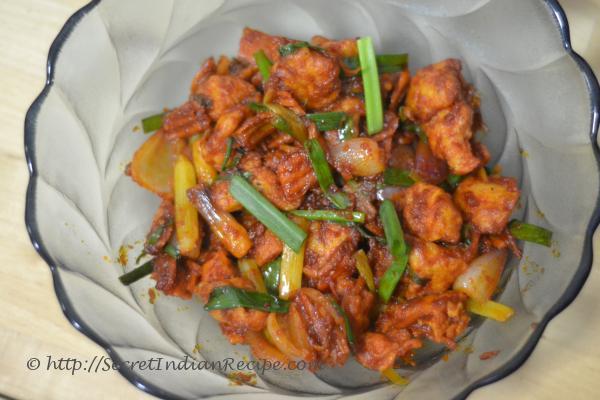 Ingredients:
Boneless chicken - 250 grams
Green bell peppers - 1 ( cut in small size)
Onion - 1 cup ( chopped)
Red chilli
Ginger Garlic paste - 1 tablespoon
Ginger - garlic - 1 tablespoon ( chopped)
White pepper powder - 1/2 tablespoon
Soya sauce - 2 tablespoon
Red Chilli sauce - 1 tablespoon
Salt - 1/2 tablespoon
Oil - 4 tablespoon
Green spring onion - 2 tablespoon
Directions:
Marinate chicken pieces with ginger garlic paste, half of soya sauce and chilli sauce for 30 minutes.
Heat 2 tablespoon oil in a pan and fry the marinated chicken for 2-3 minutes. Take them out and keep aside.
Add remaining oil and fry the chopped onions till they become translucent.
Add chopped ginger, garlic and bell peppers. Sauté for a minute.
Now add remaining soya sauce, chilli sauce, broken red chilli, salt and white pepper.
Add chicken and cook till the chicken becomes soft.
Garnish with green onions and serve.
Footnotes:
Use fresh chicken only for Indian Chinese dishes.
Other Indian Recipes that you may Like !