Chicken Seekh Kabab
Kabab culture in India was a gift from the Mughals. Kabab is eternally non-vegetarian and is usually made of chicken, mutton or beef. The test of best kabab is that, the chicken or the mutton should remain soft and juicy inside and you should know exactly how long to cook. Here is one of the simplest ways to make seekh kabab.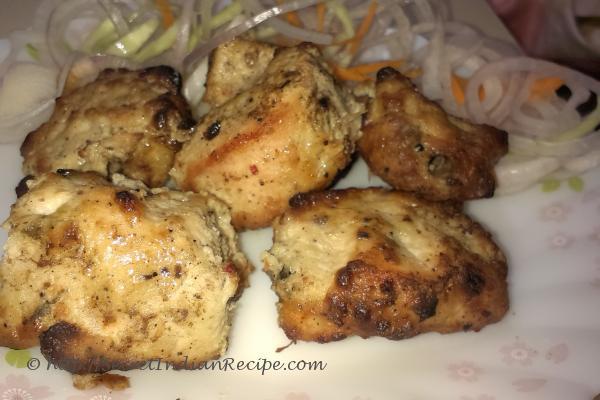 Ingredients:
Chicken (boneless) – 500 grams
Ginger – garlic paste – 2 tablespoon
Lemon juice – 1 tablespoon
Curd – 2 tablespoon
Black pepper powder – 1 tablespoon
Salt – 1 tablespoon
Directions:
Clean the chicken with fresh water and pat dry with kitchen paper to remove excess water.
Pour the chicken in a bowl and add ginger garlic paste, curd, lemon juice and salt and marinate it for an hour.
Then take two seekh (grilling sticks) and pierce it through marinated chicken.
Turn the gas on and cook the chicken pieces on lowest possible flame for about 10-15 mintues. Grilling chicken pieces on gas stove requires a little practice. To ensure if the chicken is cooked or not, take a toothpick and pierce it through the chicken pieces, if it reaches to the other side easily, it means that chicken is cooked.
Once chicken is cooked, serve it with mint chutney and salad.
Other Indian Recipes that you may Like !