Chicken Zakuitee
Zakuitee is a famous Goanese dish but the flavor and spices used by them and the their taste really varies from us a lot. So I slightly modified it in my Kithchen style and brought here a distinguished Zakuitee.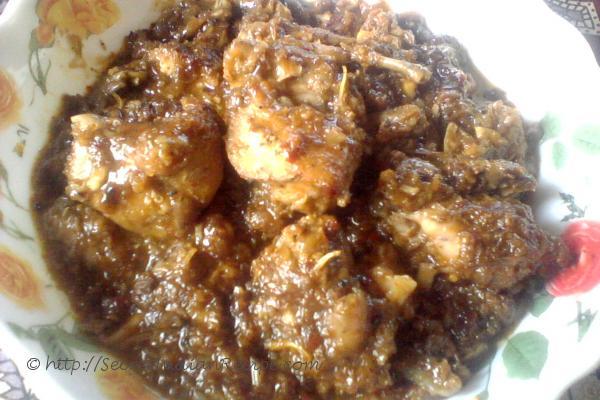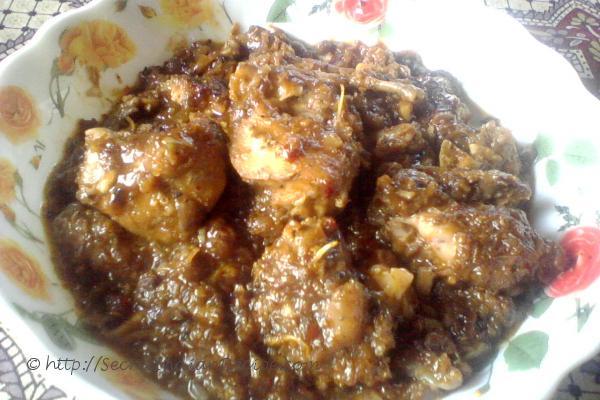 Ingredients:
Chicken- 1Kg
Chopped onion- 300g
Coconut- 1 grated
Red chilli- 7pcs
Cumin Seed- 1/2tsp
Poppy seed- 1/2tsp
Clove- 5pcs
Cinnamon- 1"
Small Cardamom- 4nos
Saunf(Fennel Seed)- 1/2tsp
Whole Pepper- 1/2tsp
Garlic- 6 clove
Tamarind paste- 2tsp
Salt & Sugar- to taste
Oil- 50ml
Directions:
In a tsp of oil, fry all the above spices.
Now along with one onion(whole) and the fried spices, make a uniform paste in a grinder.
Now, from the coconut, make Coconut milk from the half part and keep aside and fry the another half grated in oil and then grind it to a uniform paste.
Now, make the chicken into small pieces and boil it with salt in water.
Then, fry the remaining onions(chopped) till golden brown.
Then, add the boiled Chicken, grinded spice and coconut paste to it and cook well with Salt and sugar.
When cooked well, add 1/2 cup of water and cook for another 10 minutes.
Then add the coconut milk, tamarind paste to it and again cook for sometime till all the ingredients are well cooked.
When the gravy becomes thick, take it off the gas and Serve hot with Lacchha paratha or Fried rice.
Other Indian Recipes that you may Like !