Chickoo Milkshake Recipe.
Chickoo is a baby friendly fruit because of its natural sweetness and easy to swallow.I have added milk to supplement it with calcium,protein and vitamin A.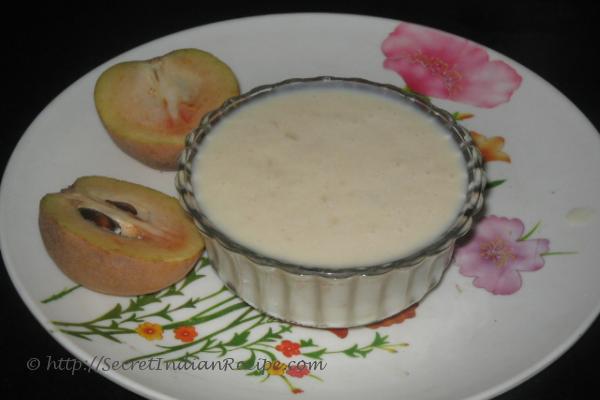 Ingredients:
Chickoo (Sapota) - 2 Medium Size.
Sugar or Jaggery - 2 to 3 tablespoon as required.
Regular chilled milk, cashew milk or almond milk but i have used regular Milk - 2 or 3 cups.
Few ice cubes (optional).
Directions:
Remove the skin and seeds of the Chickoo and cut into small pieces.
Add cut chickoo pieces in the blender.
Pour the chilled milk.Add the sugar or jaggery as required.
Blend everything till smooth.
You can add ice cubes if you want while serving.
Serve the Chickoo Milkshake immediately.Chickoo milkshake should be taken fresh.
Footnotes:
If the Chickoos are very sweet then you can reduce the quantity of Sugar or skip it.