Chickpea Pancakes With Sweet Spicy Yogurt Sauce
This is chickpea pancakes with sweet spicy sauce which I made with Greek plain yogurt, cumin, cayenne, sugar, salt and cilantro. Very healthy and delicious breakfast with a nice kick which gives you lots of energy and power.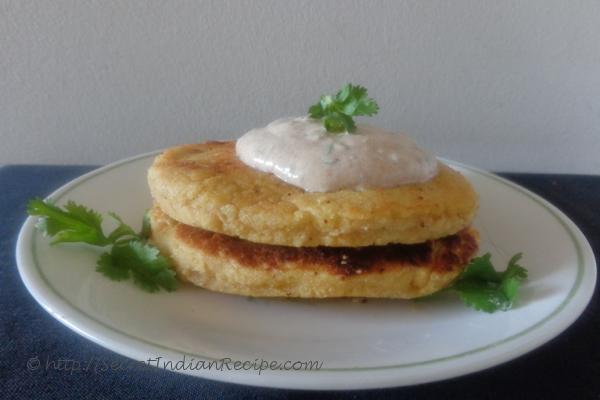 Ingredients:
1 cup Coarse split chickpeas flour
1/2 teaspoon Baking powder
1/2 teaspoon and 1/8 teaspoons Salt, divided
3/4 cup Unsweetened Soy milk
1.5 tablespoons Olive oil, divided
1/3 cup Plain Greek yogurt
1 teaspoon Sugar
1 teaspoon Ground cumin
1/8 teaspoon Ground cayenne pepper
1 teaspoon Chopped Minced Cilantro
Directions:
1. In a medium bowl, mix together chick peas flour, baking powder, 1/2 teaspoon of salt and 1/2 tablespoon of olive oil. Stir in soy milk.
2. In a non-stick skillet, heat 1/2 tablespoon of olive oil over medium heat. Pour half of the pancake batter into the skillet. Cook until the bottom side is golden brown.
3. Flip the pancake, reduce heat to medium-low and cook the other side until golden brown. Put the pancake on a serving platter.
4. Repeat this with the rest of pancake batter and 1/2 tablespoon of olive oil to make one more pancake. Put the second pancake on the first pancake.
5. Make sauce. In a small bowl, mix together cilantro, yogurt, sugar, cumin, cayenne and 1/8 teaspoon of salt.
6. Put the sauce over the pancakes or put the sauce into a small bowl and serve on the side (your preference).