Chickpeas And Spinach Tikkis
A definite winner at your breakfast table!
It is always a challenge to provide a healthy fare for your family and yet have them like it. And a bigger challenge if you have less time! This dish is easily put together if one does the prep work beforehand. It is an excellent breakfast option, great for the tiffins or even as after-school snack.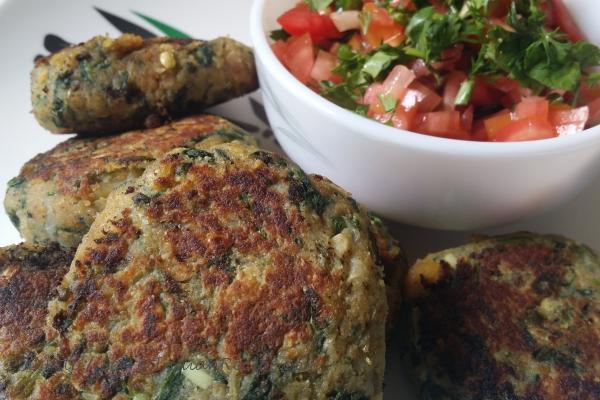 Ingredients:
4 potatoes boiled
2 cups chickpeas boiled
2-3 cups of chopped spinach
Coriander leaves-a handful
Cumin-1 tsp
Onion chopped-1
Ginger chopped fine-1+1/2tsp
Garlic chopped fine - 2 tsp
Green chillies chopped fine - 3-4
Oil for greasing
Garam masala - 1 tsp or less
Chaat masala (optional )
Directions:
Mash the potatoes and the chickpeas separately.
Temper the oil with jeera and sauté the chopped onion, ginger and garlic and chopped chilli.
Add the garam masala (choose a milder one and not anything as sharp as the one we use for meats) (Alternatively just powder 1 elaichi and 2 cloves and a tiny bit of cinnamon and a few peppercorns- add this powder)
Add chopped spinach and sauté it on high heat with this mix. When the water has dried up, turn off the flame. Add the coriander leaves and mix well.
Then add the mashed chickpeas and potatoes and mix well and adjust the salt.
Make patties (tikkis) of this mixture and set aside. Warm a non stick pan and just smear some oil. Grill out these patties till slightly brown on both sides. While hot, sprinkle a little chaat masala on the tikkis.
Serve with tomato salad/green chutney/garlicky curd/ ketchup.
Footnotes:
When forming the patties, in case the mix isn't binding well, it helps to add breadcrumbs to the mixture.