Chiken Biryani
Biryani was brought by the mughals in india and it has adapted to the variety offered by Indian culture. As the Indian culture is diverse, the regions are diverse so is the cooking style of Biryani. For example in west Bengal the Biryani rice is cooked separately and the chicken and mutton separately and then before serving the two are mixed. In Hyderabad the Biryani comes with a spicy gravy which is often poured over the biryani before serving. In lucknow biryani is prepared in ' Handi and is layered before cooking. Here is a recipe which is the simplest way of making it at home.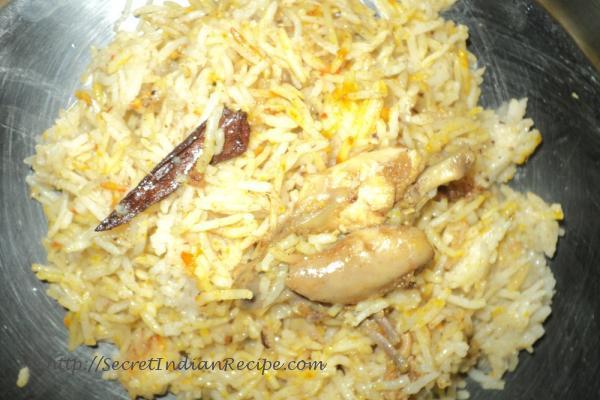 Ingredients:
(For the chicken)
Chicken 200 grams (7 ounce, preferably leg pieces)
Ginger – garlic paste 2 tablespoon
Cumin powder 1 tablespoon
Onion Paste 1 onion (15-20 grams)
Red chilli powder 1 tablespoon
Black pepper powder ½ tablespoon
Chicken curry powder 2 tablespoon
Salt 1 tablespoon
Curd 2 tablespoon
Mint leaves 2-3 strig
Garam masala powder 1 tablespoon
Mustard oil 4 tablespoon
For the rice)
Basmati / Biryani Rice 250 grams( 9 ounce washed and soaked for 1 hour)
Refined oil 2 tablespoon
Ghee 2 tablespoon
Salt 1 tablespoon
1 inch cinnamon
2 cloves
2 cardamoms
¼ tablespoon shahi zeera
Rose water 2 tablespoon
Biryani Essence 1 drop
Biryani colour 1 drop
Directions:
Take the chicken in a bowl. Add onion paste, ginger- garlic paste, red chilli powder, cumin powder, black pepper powder, chicken curry powder, garam masala powder, mint leaves, salt and curd and mix all together. Keep for 10 mintues.
In a pan or karahi put the oil and once the oil is heated, add the marinated chicken and cover it with lid. Cook on low flame for 15-20 mintues. Stir occasionally.
Put a pressure cooker on the other gas stove and add refined oil and ghee together. Once the oil is heated, add the bay leaf and the whole garam masala. As the flavor starts coming add the rice, salt, rose water, biryani essence, biryani colour and 375 mililitre of water and pressure cook for 2 mintues.
Check if the chicken has been done. Once done take the chicken out and mix it carefully with the prepared rice. Serve hot with chicken curry and raita.
Other Indian Recipes that you may Like !