Chili Egg (egg Cooked With Capsicum, Onion And Soya Sauce)
I guess I could think of this recipe just because I am born and brought up in Kolkata. Bengali people are known for their love for food and they are the one who like to and taste different cuisines across the world. Chinese cuisine, (better I should say) Indian Chinese cuisine has been favourite among Bengali people….May be because it is primarily non- vegetarian. In college, I remember my friends used to treat us with chili chicken and fried rice on their birthdays. That was the standard menu. On one of my friends' birthday treat, I had this chili eggs instead of chili chicken and found it equally good….In fact more convenient. Eggs are easily available and you can store them in your refrigerator for days. Moreover, It can be served as Side dish or even as starters for weekend get together.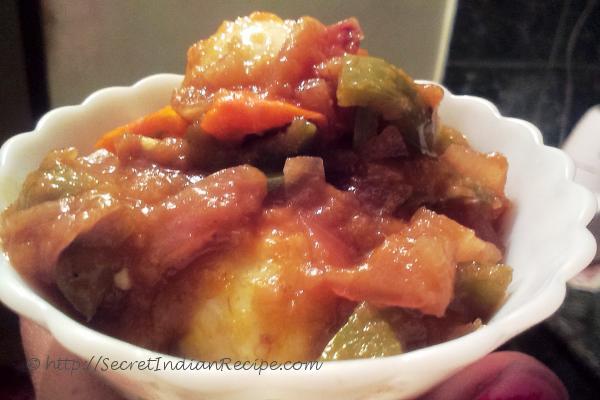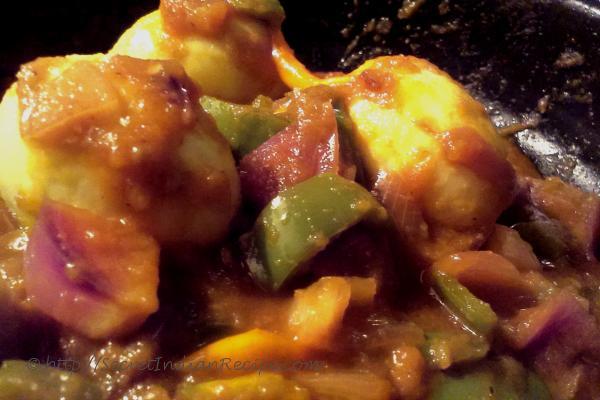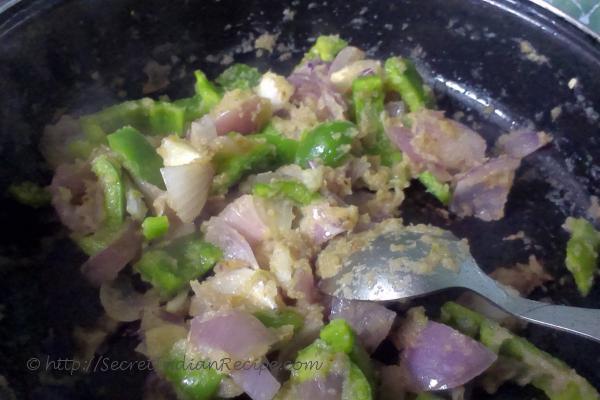 Ingredients:
Boiled eggs - 4 nos
Onion paste – 2 medium sized onions
Ginger garlic paste – 1 and ½ tablespoons
Green chilies - 3-4 pieces
Onion – 1 (chopped)
Capsicum – 1 (chopped)
Soya sauce – 1 tablespoon
Tomato sauce – 2 tablespoon
Chili sauce – 1 tablespoon
Ajinomoto – a pinch (optional)
Refined oil – 5-6 tablespoon
Salt – as per your taste
Directions:
Combine ½ tablespoon of ginger- garlic paste, ½ of onion paste, ½ of Soya sauce, Chili sauce, Tomato sauce and 1/4 tablespoon of salt in a bowl and marinate the boiled eggs for 20 mintues…..make small slits over eggs before marinating for better result.
After 20 mintues, heat oil in a pan and add the remaining onion and ginger garlic paste along with green chilies. Fry the masala on medium heat till they start leaving oil from sides.
Turn the flame low and add chopped onions. Continue to sauté for a minute and then add chopped capsicum.
Wait for 5 mintues and then pour the marinated eggs along with the masala. Keep stirring for another 5-6 mintues.
Finally add the remaining Soya sauce, Chili sauce, Tomato sauce, salt, Ajinomoto and 5-6 tablespoons of water and mix.....Be careful when adding salt as Soya sauce, chilli sauce and Tomato sauce have salt plus you also add some salt while marinating. Let it simmer for 6-7 mintues and then switch off the gas.
Serve it warm with Egg fried rice or noodles.
Other Indian Recipes that you may Like !