Chili Garlic Paneer Pakora (cottage Cheese Fritters With Chili And Garlic Sauce)
Since I started blogging my recipes, I feel, I have develop a habit of cooking and sharing. Earlier I used to get Samosas or Kachoris and sweets from outside whenever some guests used to come over to our place. Now a days, I rush to my kitchen to cook something for them. My Family and guests appreciate it and I feel happy. Yesterday, I tried these new Chili garlic Paneer Pakoras. I had some Paneer in my refrigerator since Last week. Fearing that it may get spoiled, I thought of making some pakoras. My favourite has been 'Hara paneer pakora', But I had no Coriander so I substituted the coriander chutney with the chili garlic Chutney( My second favouite chutney) . To balance the taste I added some Tomato sauce. The result was a new recipe Chili garlic paneer pakora. Here goes the recipe for all of you.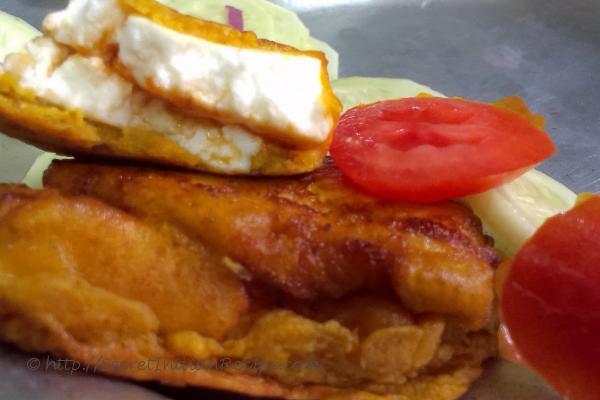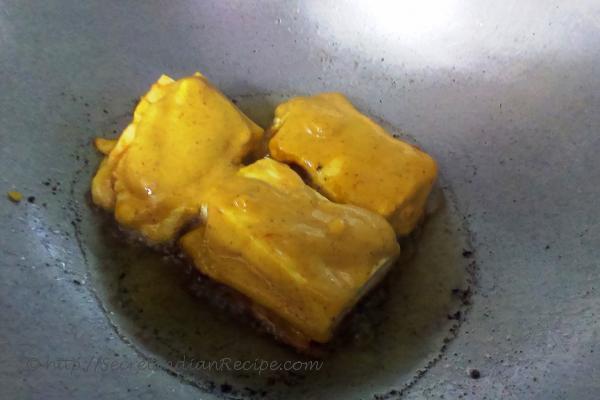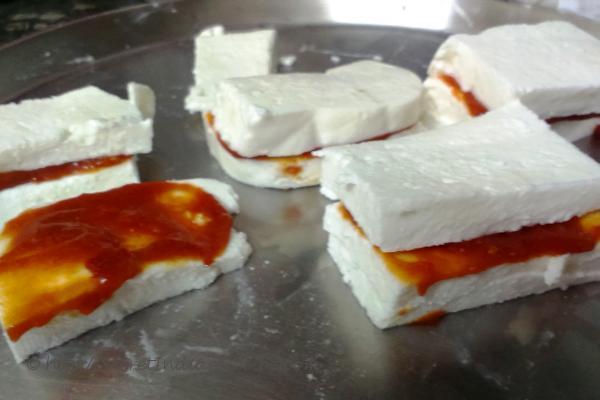 Ingredients:
(For chili garlic chutney)
4-5 Garlic pods
2 whole Red chili
Salt to taste
Tomato sauce – 3 tablespoon
For Paneer Pakora – 6 pieces
Paneer (Cottage Cheeese)– 250 grams
Besan (Gram Flour) – ¼ cup
Roasted Cumin and Red chili Powder – 1 tablespoon
Turmeric powder – ½ tablespoon
Salt to taste
Oil – 7-8 Tablespoon to fry
Directions:
To make chili garlic chutney grind red chili, garlic, tomato sauce and salt together in a grinder with 1-2 tablespoon of water.
Now cut the Paneer pieces in two inch long square strips (See the pic). Apply a coat of chili garlic chutney on one side of a piece of paneer. On the top of it place another piece of paneer…It will look like a sandwich. Follow it for the rest.
To make the batter combine besan, roasted cumin and red chili powder, turmeric powder and salt in a bowl. Add Sufficient water and make a semi thick batter.
Heat oil in a pan over low heat. Dip each paneer Sandwich in besan batter and coat it evenly. Now slowly put in hot oil. You can fry two to three pieces at a time. Fry till all the sides are done and it gets a nice light brown colour. Remember to keep the flame low as besan is heat sensitive.
Serve hot