Chilli Bajji Recipe.
Chilli Bajji is a very popular street snack in India. Chilli Bajji is an yummy snack which most of us have in exhibitions and beaches.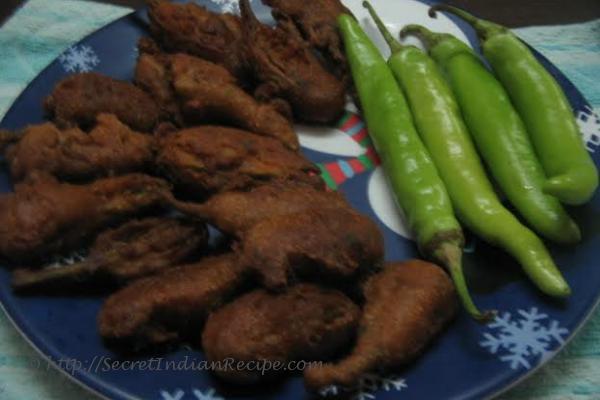 Ingredients:
Light Green Bajji chillies - 5 nos.( sold especially for making bajjis).
Bengal gram flour/ Chickpea flour/ Besan - 1 cup.
Rice flour - ¼ Cup.
Red chilli powder – ½ tablespoon.
Cumin Seeds or Ajwain(omam) – ¼ tablespoon.
Coriander leaves finely Chopped – 1 tablespoon.
Turmeric powder - ¼ tablespoon.
Baking soda (sodium bi carb) – 3 pinch.
Asafoetida – 1 pinch.
Hot Oil - 1 tablespoon.
Salt as required.
Oil for deep frying.
Clean the chillies. Cut into half, take out the seeds inside.
Directions:
Wash the chillies and pat dry with a clean towel.
Slit them each lengthwise with a small knife.Carefully remove the seeds inside completely with the help of the knife.
In a mixing bowl, mix gram flour,rice flour,red chilli powder,baking soda, asafoetida,turmeric podwer,salt,chopped coriander leaves.jeera aor Ajwain and hot oil.
Add water little by little and mix well and make a thick batter.The batter should easily coat the chillies.The consistency of batter should be slightly thicker.It should coat the chillies well.If it is too watery,tails will form in bajji.If it is too thick,bajji will become hard.
Heat enough oil to fry the bajjis in a kadai. Dip the chillies one by one and drop carefully in to hot oil. Cook both sides for 2 to 3 minutes a side or until golden brown and crisp.
Remove from oil and drain on a paper towel to absorb excess oil.
Repeat the same process for the rest of the chillies.
Footnotes:
Seeds should be removed completely for reducing the spiciness. Otherwise it will be too spicy and no good for your tummy too.
Cook in medium flame to ensure the bajjis get cooked inside.
Serve immediately, hot hot with Tomato sauce or Ketchup.