Chilli Chicken Bites
Chilli chicken is a classic Indian starter but I decided to give it my own twist to make it appealing to all taste buds, especially as a snack for children.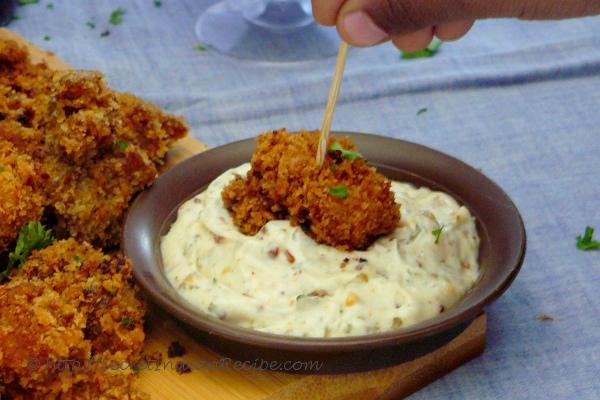 Preparation Time:
15 minutes + 3 hour marination
Ingredients:
1 kg, Chicken thigh (boneless); cut into bite sized pieces
5-6 dry round Red chilli, soaked in warm water for 15 minutes (it will not be spicy, trust me)
5 Garlic cloves
1 inch Ginger root, peeled
½ tsp Cumin seeds
½ tsp Fenugreek seeds
5 Cloves
1 tsp Coriander seeds
Salt, to taste
3-4 cups Panko breadcrumbs, for coating (use ordinary breadcrumbs if you wish to)
Vegetable oil, for frying
Directions:
Wash and drain the chicken pieces well; keep aside.
Soak the chillies in warm water for at least 15 minutes.
Dry roast cumin, fenugreek, cloves and coriander seeds.
Grind the roasted spices and the softened chillies with a bit of water into a paste.
Add the paste to the chicken pieces, season with salt and mix well to combine.
Marinate for at least 3-4 hours, more if possible. If you want to freeze for later use, do it at this stage.
Heat oil in a deep pan to fry the chicken pieces.
Coat each chicken piece in the Panko crumbs and fry till golden brown. Drain on a kitchen paper.
Serve hot with dip of choice.
Other Indian Recipes that you may Like !