Chilli Paneer (cottage Cheese Cooked With Soya And Chilli Sauce)
Chilli paneer (or Chilly Paneer) is a vegetarian adaptation of Chilli Chicken, a very popular Indo-Chinese (Chindian) dish.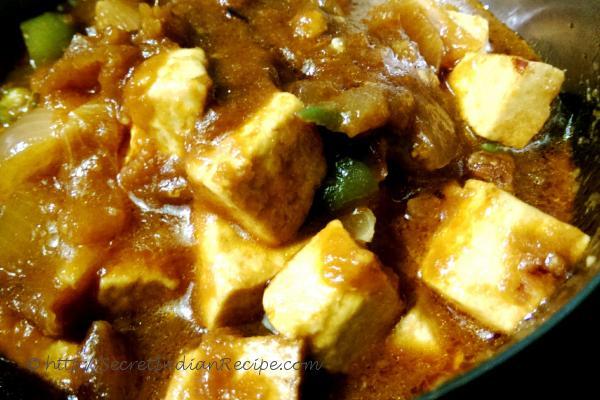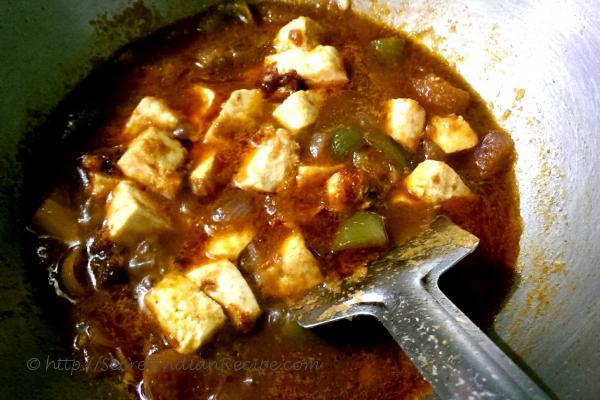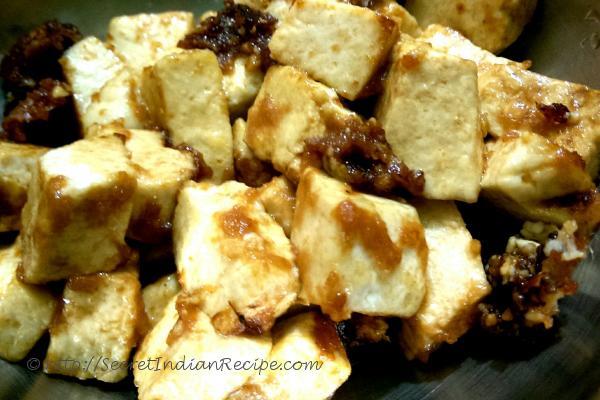 Ingredients:
Paneer (cottage cheese) – 200 grams
Onion - 2 large Cut in cubes.
Ginger – garlic paste – 3 tablespoon
Corn flour - 1 tablespoons
Capsicum – 1 piece (cut in medium size)
Onion paste- 1 medium sized onion
Tomato sauce – 4 tablespoon
Soya sauce – 1/2 tablespoon
Chilli sauce – ½ tablespoon
Refined oil – 5 tablespoon
Salt – ½ tablespoon
Green chilli – 4-5 pieces (sliced)
Directions:
Cut the paneer in large chunks. Marinate the paneer with 1 tablespoons of tomato sauce, few drops of chili sauce and soya sauce . 1 tablespoons of ginger garlic paste and corn flour. Leave for 10 mintues.
Heat oil in a karahi and put the paneer chunks and fry on medium heat for few seconds. be careful as it may stick to the karahi due to corn flour. Once they start browning from sides, take them out on a plate and keep aside.
In the remaining oil put the chopped onions. Fry the onions on medium heat till they become translucent. Add the chopped capisicum and fry till they just start turning a bit brown. Take out on the plate and keep aside.
Now add ginger garlic and onion paste in the remaining oil and sauté till it starts leaving oil from sides. Add tomato sauce, soya sauce and chilli sauce and sauté for few seconds. Now add the paneer, fried onions and capsicum and ¼ cup of water. Mix well.
Finally add the salt and corn starch and let the gravy boil for 2-3 mintues. Serve hot with vegetarian fried rice or noodles.
Footnotes:
You can replace paneer with tofu for a healthier option