Chilli Soyabean
Chili soyabean is one of my favourite vegetarian recipes. It is a brilliant substitute for Chilli Chicken. This Indian Chinese fusion recipe is made of soyabean chunks or nuggets. It is cooked with few masalas and different sauces. The interesting fact is that soyabean has more protein than chicken. Chili Soyabean can be served with fried rice or simply with Indian Parathas.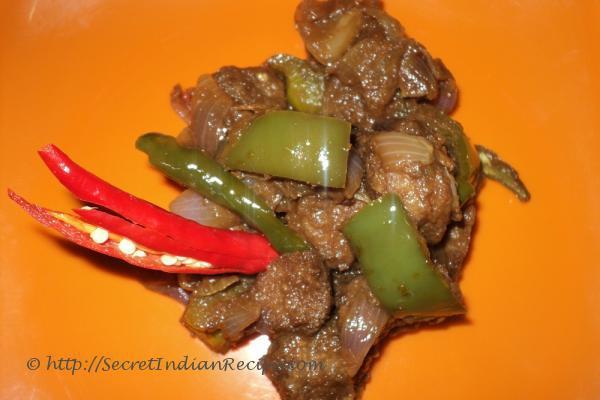 Ingredients:
Soyabean nuggets 100 grams (1 ounce)
Onion 2 onions (finely chopped)
Onion paste 2 tablespoon
Ginger garlic paste 2 tablespoon
Capsicum 1 (chopped)
Soya sauce 2 tablespoon
Chilli Sauce 2 tablespoon
Tomato sauce 2 tablespoon
White vinegar 2 tablespoon
Green chillies 4-5 diced
Salt 1 tablespoon
Refined oil 5 tablespoon
Directions:
Boil the soyabean nuggets for 10 mintues and then sqeeze the excess water and keep it separately. Then marinate it with onion paste, 1 tablespoon of ginger- garlic paste, 1 tablespoon of soya sauce, tomato sauce, chilli sauce and vinegar each for 1 hours.
Heat oil in a karahi and fry the marinated soya chunks for 2 mintues. Once take it out in a plate.
Add chopped onions and chilli in the remaining oil and fry till they turn light brown. Then add the ginger garlic paste, sauté for 2-3 mintues and then add the soya chunks, remaining sauce, salt and capsicum. Mix well and put a lid on. Cook on low flame for 10 mintues. Garnish with green chillies and serve hot.