Chily Beef (beef Cooked With Chily The Chinese Style)
There are different versions to chily beef. The ones made in Kerala is totally crisp and dry while the ones in most Chinese restaurants have a tomato base. I love both versions. This is the Chinese version in restaurant style. It uses a lot of julienned vegetables. I have not added beans and corn but those are fine with this recipe too.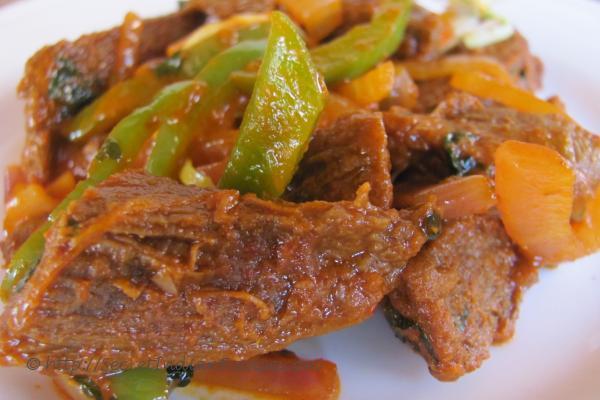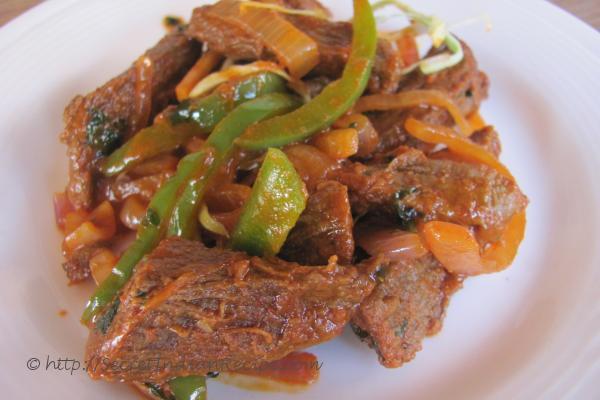 Ingredients:
Beef brisket- 250 g
Carrots- 2
Capsicum- 2
Onion- 1
Chili flakes- 2 tsp
Garlic- 6 pods
Soy sauce- 2 tbsp + 2 tbsp
Tomato Paste - 1 tbsp
Oil- 4 tbsp
Salt- to taste
Pepper powder- a dash
Sliced green chilies- 5
Directions:
Marinate the beef brisket after washing with minced garlic, salt, soy sauce and pepper powder. Marinate and refrigerate overnight for better results else you can do it for 4 hours.
Slow roast the beef in a pot over fire or bake it at 180 degrees in an oven for 20 minutes. Drizzle 2 tsp oil over the beef before cooking and the remaining fat will come from the beef.
Slice the beef into thin strips after it is cooked.
Now heat a wok and add the oil. Saute the onions along with julienned carrots and capsicum.
Toss it in between and do not overcook the meat.
Add the chili powder and soy sauce and saute for 2-3 minutes before adding the tomato paste.
Now add the sliced beef and stir fry for 5-8 minutes. Garnish with chopped green chilies.
Other Indian Recipes that you may Like !