Chin-bengal Chowmein (noodles)
Another Chinese dish which is highly preferred among Indians as well as among Begalis. So again modifying the Chinese dish in Bengal way.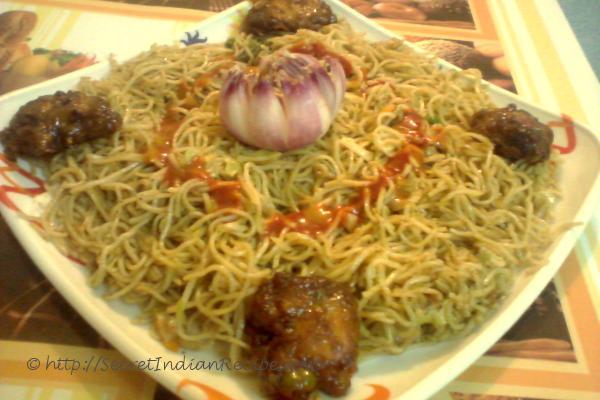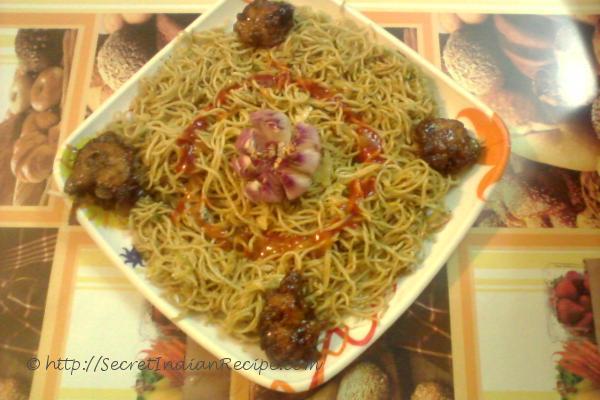 Ingredients:
Noodles- 500g
Onion chopped- 1small
Chopped carrot+beans+capsicum+chilli- 1 medium sized bowl
Egg- 2pcs
Oil- 50ml
Salt & sugar- To taste
Ajinomoto- 3tsp
Dark Soya Sauce- 4tablesp
Cucumber & Onion- For salad
Tomato & Chilli Sauce
Directions:
Boil the Noodles in water and then dry up the noodles.
Mix oil thoroughly to the noodles so that the strings remain unattached to each other and keep it for 3hr to soak the oil.
Now heat the oil in pan add fry the onions along with the chopped veggies till light brown.
Then add the noodles and mix well with the veggies.
To it,add soya sauce,ajinomoto,salt n sugar and mix properly in light hand.
Now make a fried scrambled egg and add to it and take away from the oven.
Garnish it with Salad and Sauce and serve hot with Improvised Chilli Chicken.
Other Indian Recipes that you may Like !