Chinese Pepper Paneer (paneer Sauted With Bell Pepper And Pepper )
Sometimes the best dishes are the simplest ones. Like this Chinese style pepper paneer. I had it at a Chinese joint in Bangalore where we get food home delivered at times. I could never replicate their flavour but I kept trying finally one day we decided to pick up food and we got to talk to the cook there who was relatively free that day and when I asked him if he would share his recipe he was ever ready. I liked the trick he used to mix the spices and sauces evenly and I will share it in the directions.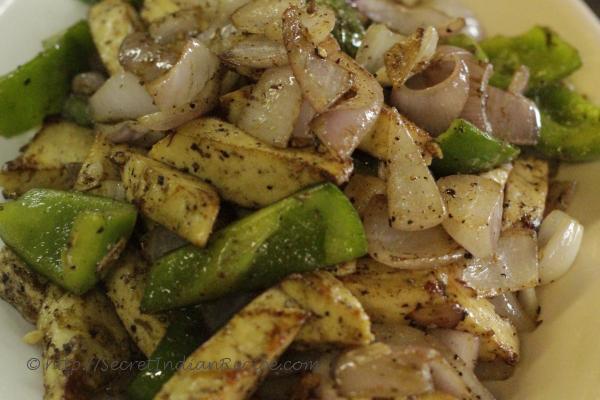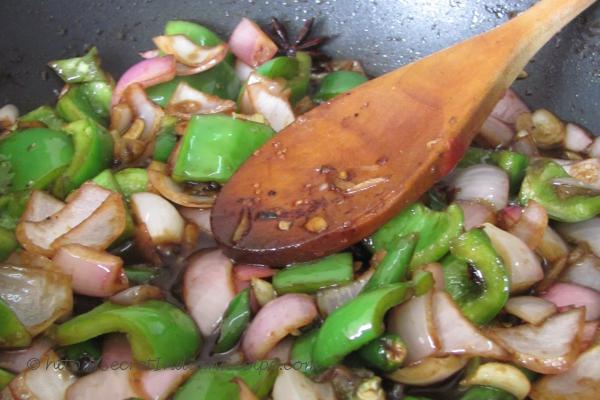 Ingredients:
Paneer- 200 g
Bell peppers- 2
Onion- 2
Garlic- 7 cloves
Butter- 1 tsp
Soy sauce- 1 tbsp
Brown sugar- 1 tbsp
Pepper powder- 1/2 tsp + a pinch
Salt- to taste
Fish sauce- 1 tsp
Vinegar- a dash
Star anise- 1
Directions:
Cut the paneer and bell peppers into diamond shape pieces. And slice the onions thickly.
We won't cook any of these ingredients like we do for a curry, it should have a crunch to it when one bites into it.
Take a small glass jar with lid. Open the lid and add the soy sauce, sugar, vinegar, pepper, fish sauce and salt.
Close the lid on the bottle and shake it vigourously. You can prepare this for all your Chinese dishes and refrigerate this jar.
Now heat a Chinese wok and keep the flame high. Add the butter and throw the star anise and minced garlic immediately. Keep tossing since the flame is high.
Add the onions, bell peppers and paneer and keep tossing. Add the sauce in the bottle and pinch of pepper and continue tossing for 5 minutes.
When the paneer start to brown on the sides transfer the pepper paneer to the plate you wish to serve in and garnish with some spring onions.
If you have any sauce left in the bottle pour it over for a glaze.
Footnotes:
Vinegar and Soy sauce has salt in them so be careful before adding salt to this dish. Add salt appropriate to your salt levels.