Chirar Payesh / Flattened Rice Pudding ..........
Chire is also known as poha , powa , flat rice , pressed rice or flaked rice . This recipe is traditionally made in Bangladesh . My Grandma is from Bangladesh .............. so she makes this wonderfully healthy ..........Bangladeshi sweet dessert .
For sweetness khejurer gur is used traditionally but if unable to get this , use brown sugar . Though it is pretty simple dessert and but tastes awesome.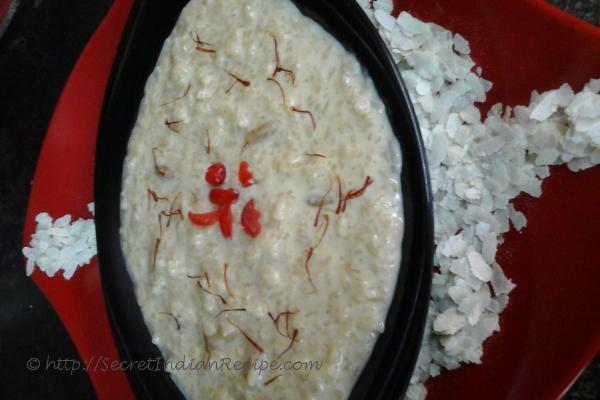 Ingredients:
Flattened Rice / Chira - 1/2 cup
Rice flour - 2 tablespoons
Milk - 2 and 1/2 liter
Khejurer gur / Brown sugar - 1 cup
Cinnamon pods - 2 no
Chopped Almonds - 2 tablespoons
Pinch of salt
Few saffron soak in - 1 tablespoon of milk
Cherry - 2 no
Directions:
Wash flattened rice / chira and strain the water . Need to be careful while washing it . After straining soak it with 1 cup of milk .
Mix 1/2 cup of milk with rice flour and keep aside .
Boil the rest of the milk and cardamom pods together and bring it to boil . Stir occasionally .
Add rice flour mix in boiling milk and stir constantly .
Boil about 12 - 15 minutes and add milk soaked flattened rice / chira .
Cook 15 minutes or more or when flattened rice is cooked and milk comes to a Payesh consistency add khejurer gur / brown sugar and a pinch of salt .
Stir it and cook it till sugar dissolves. Add chopped almonds and pinch of saffron and remove from the heat .
Pour it in serving dish and let it cool down . Garnish with milk soak saffron and chopped cherries .
Serve CHIRER PAYESH / FLATTENED RICE PUDDING CHILLED and ENJOY ☺☺