Chirote (crispy Layered Sweet Puri)
Crispy Layered Sweet Puri is a delicious sweet puri that is flaky and crispy puri dipped in sugary syrup. These puris can be a great treat for your friends and family for any festive occasions; especially for Diwali get-togethers. These puris might look a bit tricky, but they are pretty simple once you start making them. If you follow the exact steps, them these can be a cakewalk.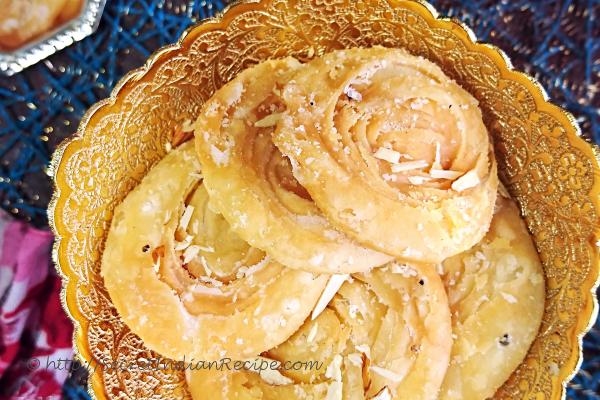 Ingredients:
For the dough
1 cup maida
2 tablespoon ghee
water for kneading dough
½ teaspoon oil
For the sugar syrup
¾ cup sugar
1/3 cup water
½ teaspoon elaichi/cardamom powder
To be mixed together
2 tablespoon ghee
1 tablespoon rice flour
½ tablespoon maida
For the garnish
mixed chopped nuts (almonds, pistachios, cashews)
Directions:
For the dough- In a wide bowl, mix maida, ghee and knead into a stiff dough adding water gradually. Dough should not be soft and smooth. It should be same as that of a puri. Cover and set aside for 15-20 minutes.
For the sugar syrup- To prepare sugar syrup, add sugar and water in a pan and allow to boil. Once the syrup starts boiling, reduce the flame to low and check the consistency of sugar syrup.
You should have a one string consistency sugar syrup. Switch off the flame and add cardamom powder. Set aside.
To be mixed together- In a small bowl, mix ghee, rice flour and maida. Stir and keep aside.
Preparing Puris
Divide the dough in 6 equal parts and make balls out of it. Roll out each ball into a big round (big sized roti).
Now take 1 roti and apply ghee-flour mixture and spread evenly on it. Place another roti on it and apply ghee-flour mixture over it. Now, place the third roti and apply the ghee-flour mixture.
Then roll them up. With the help of a knife, cut small pieces of the roll. These would now look like mini swiss rolls.
Repeat the same process for the remaining 3 rotis.
Take a small piece that we had cut from that roll on a rolling pin. Press it lightly with your palm and roll into a small disc shape (puri shape). Roll it gently. In the same manner, prepare all the other puris.
Heat oil for frying puris. Fry the prepared puris till light golden and crisp.
Immediately soak these puris in the prepared warm sugar syrup. When you dip the puris, syrup should neither be too hot nor at room temperature. It should be warm. Soak for 1-2 minutes.
Take out on a plate and sprinkle chopped nuts over them. Once cooled, store them in an air-tight container.
Watch video here : https://www.youtube.com/watch?v=EsA03Yavr-0