Chocolate Coconut Phirni With Walnut
Usually I make coconut phirni and chocolate phirni as two separate dishes but on my daughter's birthday while making her favourite dish, an idea suddenly struck me what if I combine these two and I also added walnuts to increase the flavour. My daughters and husband liked it. You can also serve it cool or hot as your kids prefer,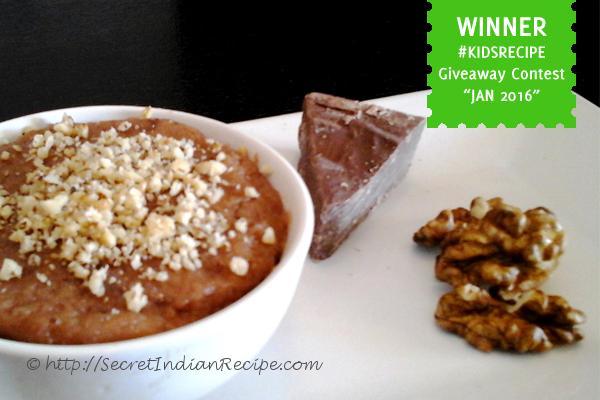 Ingredients:
1) Rice flour 1tbsp
2) Desinated Coconut 1/2 cup
3) Milk 1 cup
4) Ground Walnuts 3tbsp
5) Pure Ghee 1tbsp
6) Coarsely gound walnut for decoration 1tsp
7) Grated Chocolate 3 to 4 tbsp
8) Sugar 1tbsp
Directions:
Mix the first 5 ingredients in a bowl except sugar and grated chocolate and stir together.
Heat a non-stick pan and transfer the above mixture from bowl. Stir continuously on medium flame till the mixture starts to thickne
Then add sugar and grated chocolate continue to stir on medium flame till it thicknes. Stir continuously.
When the mixture comes to thick consistency, Serve in small bowls and decorate it with coarsely ground walnuts
You can also chill it in the fridge and serve cold. But being a kids specia recipe, I avoid serving kids cold desserts.
Footnotes:
You may replace walnuts with cashewnuts or any other nuts that your kids like