Chocolate Dipped Eggless Coconut Macaroons With Cardamom Flavour
Macaroons are basically small circular cake. I gave it cardamom flavour which taste yummier with coconut and chocolate. #festiveRecipe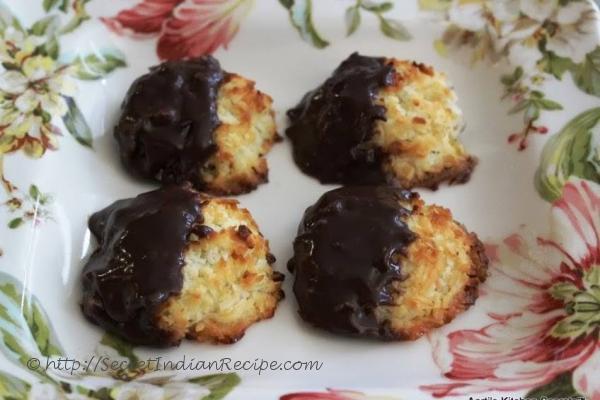 Ingredients:
Sweetened Shredded Coconut – 1 cup
Condensed Milk – 5-6 tbsp
Green Cardamom Powder – 1/2 tsp
Semi-sweet chocolate - 1/2 to 1 cup (cut into small pieces)
Directions:
Preheat the oven to 350 °F
In a bowl add condensed milk, shredded coconut, cardamom powder and mix well.
After mixed everything take 1 tbsp of batter and place it in the greased and dusted baking tray.
Bake for 15 - 20 mins or until the macaroons start to turn brown.
Once they are done remove it from oven and cool it for 10-15 mins.
In a heat safe bowl add chocolate and place it on a pot of boiling water. Stir it till the chocolate gets smooth and glossy
Dip the macaroons in the chocolate and place them back onto the plate. Refrigerate macaroons for 30-40 mins.
Footnotes:
If the batter is watery so you can add semolina into it. You can also add ½ tsp vanilla extract if you don't want to add cardamom powder.