Chocolate Maida Burfi ( Chocolate And All Purpose Flour Fudge)
This chocolate burfi is made from simple ingredients and it is perfect for kids birthday party. See how to make this tasty burfi.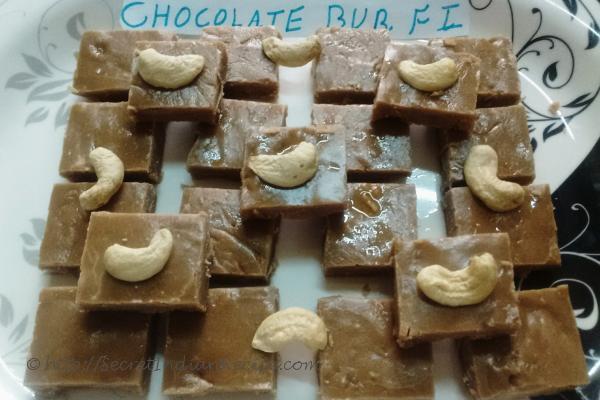 Ingredients:
Maida - 1 cup
Amulya Milk powder - 1/2 cup
Coco powder - 2 tbsp
Warm milk - 1/4 cup
Sugar - 2 cups
Ghee - 1/2 cup
Directions:
Heat 1/4 cup ghee in a non stick kadai. Add maida to the ghee and fry for 3 to 4 minutes. Fry them till it looks like grated paneer. Then transfer it to the mixing bowl and add the milk powder to it. Mix it thoroughly or whip it in a dry jar for 2 times.
Stir Coco powder in 1/4 cup milk and keep it ready.
In a heavy bottomed kadai add sugar with 1/2 cup water. Boil them till it reaches one string consistency. Then switch of the flame.
Now add maida little by little to the sugar syrup and keep on stirring with your other hand. Then add the remaining ghee, Coco mix and keep it on a medium flame. Keep on stirring till it becomes non sticky and leaves the sides of the kadai. Then put it on a greased plate. Cut them into small squares.