Chocolate Mousse With Vanilla Ice Cream And Candied Walnuts
A simple yet satisfying chocolate mousse that literally took me just 5 minutes to prepare and only a minute for my family members to finish it off. I serve this mousse with vanilla ice cream some homemade candied walnuts and chocolate sauce.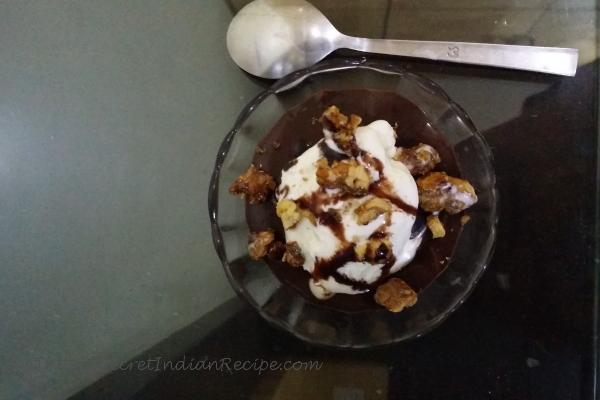 Ingredients:
Dark Chocolate Grated - 3/4th cup
Amul Fresh Cream - 1 cup
Powdered sugar (for mouse mixture)- 2 teaspoon or according to taste
Walnuts - 20-25 kernels
Powdered Sugar (for candied walnuts) - 5 tbsp
Directions:
For the mousse:- Melt dark chocolate pieces in a microwave or a double boiler. Slowly add in the fresh cream in the melted chocolate and fold it gently.
Next add the powdered sugar in the chocolate and cream mixture and mix till all the ingredients are combined well.
Now pour this mousse mixture in small dessert bowls of your choice and leave it in the refrigerator for at least an hour to set.
For the Candied Walnuts:- Heat up a non stick pan and add in the chopped walnuts and toast it slightly. (The walnuts should not turn brown but only be crisped a bit) Next add in the powdered sugar in the pan and keep stirring the walnuts till the sugar completely melts and coats all the walnuts. Take it our from the pan keep it aside for garnishing the mousse.
Just before serving the mousse add a dollop of vanilla ice cream on the centre of the mousse. Then add the Candied Walnuts and a drizzle of chocolate sauce and your 5 minute decadent chocolate mousse is ready to serve.
Footnotes:
The chocolate and cream mixture should not be stirred or mixed using a blender as or can make your mixture runny so always a spatula and gently fold in the mixture. The mousse bowls should be taken out of the refrigerator at least 20 mins before serving. The Candied walnuts tend to stick with each other when they are coated with sugar so u can either take it out on a butter paper or later crush them a lil before garnishing it on your mousse.