Chocolate Overdose With A Dash Of Strawberry!!
Made this dessert in a shot glass...very easy and any one can make it...and the kids will love it!!!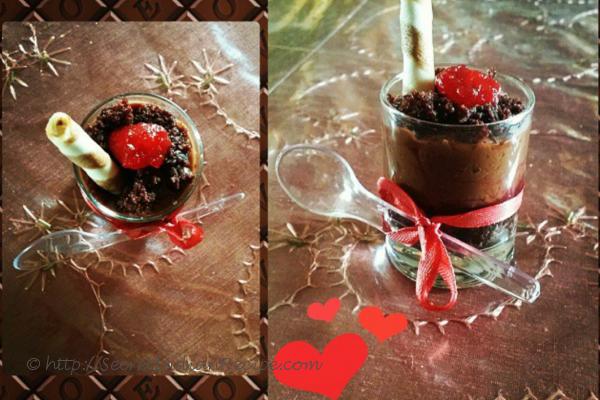 Ingredients:
12 Shot glasses
1/2 kg chocolate cake ( I bought a ready made cake from the bakery)
half slab of cooking Chocolate
1 packet of fresh Cream
Fresh Strawberries
Strawberry Jam
Directions:
Break the cake into crumbs.
Cut the strawberries into half and boil it along with sugar till it becomes nice n thick and looks like jam.
Melt the cooking chocolate on double boiler method and once its melted mix in the fresh cream and mix it well. n keep aside.
Now take the shot glasses, take a teaspoon and put the chocolate cake first and then a teaspoon of the strawberry mixture and then the chocolate and cream mixture and top it again with crumbs of the cake and decorate with a little strawberry jam.
Serve chilled or as it is :)
Footnotes:
You can play with the layers and decorate it as you like ... i used the chocolate wafer stick and put a ribbon around the shot glass with a spoon so that it looks good once it is served to the guests....since it was chocolate it was a hit with the kids :)