Chokh Vagun (kashmiri Khatte Baingan)
Today I bring you a traditional recipe from Kashmir called "khatte Baingan". This is a popular brinjal recipe in the state of Jammu & Kashmir – the egg plant brinjals are cooked in mustard oil and kashmiri red chillies and other spices. This dish has maintained its popularity ever since its origin.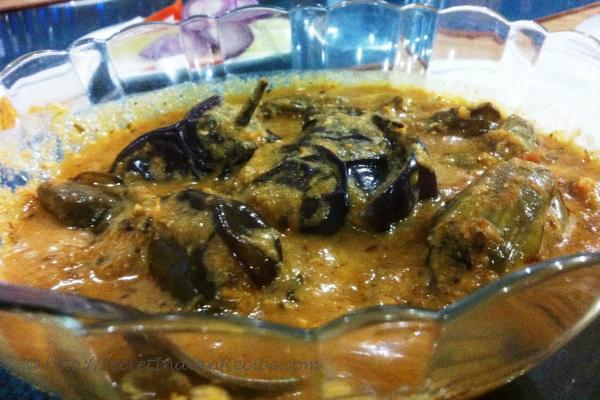 Ingredients:
Egg plant brinjal 7-10
Mustard oil 2 tbs
Dalchini stick 1
Elaichi 2
Kashmiri red chilli 1 tbs
Jeera 1 tbs
Salt to taste
Hing ½ tbs
Turmeric powder ½ tbs
Coriander Powder 1 tbs
Lemon juice 1 tbs
Tomatoes 2 sliced
Directions:
In a pan – add mustard oil and cumin seeds, when the cumin seeds starts to crackle add elaichi and dalchini to it.
When you feel the aroma, add all the ingredients – salt, kashmiri red chillies, hing, turmeric powder, coriander powder.
Now, add the tomatoes and add one cup of water to it – let it cook for about 5 minutes.
When you see, that the tomatoes and the spices are mixed well – take it out in a bowl.
Make a thick paste of the gravy.
Add the egg plant brinjals to the gravy, cover it with a lid and cook them for another 15-20 minutes, till the brinjals are soft and well cooked.
Footnotes:
Serve it hot with roti's. Happy Cooking!