Chole Bhature ( Fried Flat Breads With Chickpea Curry)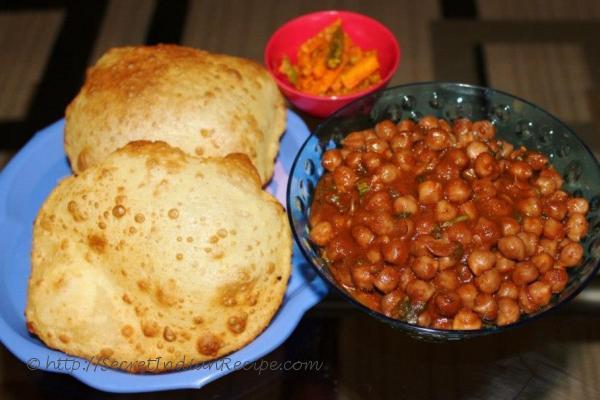 Ingredients:
For Bhatura: Maida (All purpose flour) - 2 cups
Sooji (Semolina) - 1/4 cup
Baking Powder - 1/4 tsp
Sugar 1/4 tsp
Yogurt - 1/2 cup
Salt to taste
Oil - 2 tsp (for dough)
Oil to deep fry
For Chhole: White Chick Peas 1 cup (soaked in the water overnight)
1 tea bag /1 tsp tea leaves, tied in a muslin cloth (optional)
Oil - 2 to 3 tbsp
Cumin Seeds 1/2 tsp
1 Onion (finely chopped)
Ginger - 1 1/2 tsp (grounded)
Garlic 2 cloves (grounded)
Chhole Masala 2 tsp
Red Chilli Powder 1 tsp
Green Chillies- 2 slit
Tomato Mashed 1/4 cup
Salt to taste
Fresh Coriander leaves - chopped
Lemon juice
Directions:
To prepare the Bhatura, take the all purpose flour in a mixing bowl and add semolina, salt, oil and baking powder. Combine it well. Add the yogurt and mix well, knead into a smooth dough.
Cover it with a wet muslin cloth and rest the dough for 3-4 hours. Divide the dough into equal parts and roll out into big size poori.
Heat oil in a thick bottomed wok and deep fry till the bhaturas puff up and both sides are golden brown.
To prepare the Chhole, pressure cook the white chick peas with the tea bag and enough water until they are soft. Drain and keep aside. Discard the tea bag.
Heat the oil in a pan, add the cumin seeds. When the seeds crackle, add the onion, ginger and garlic and saute till the onion is golden brown.
Add the mashed tomatoes, salt, red chili powder, green chilli, chhole masala and cook it for 2-3 mins.
Add the chick peas and 1 cup of water (in which we have boiled the chick peas) and mix well. Simmer it for 10 to 15 minutes.
Squeeze few drops of lemon juice and garnish it with chopped coriander leaves.
Serve hot chhole bhature with carrot & ginger pickle and sliced onions.