Chole Cutlet (chickpea Cutlet)
Weird though the name might sound, this is a very easy cutlet and worth trying for 2 reasons. Firstly it needs no bread crumbs, egg or maida coating and still forms a perfectly shaped patty than can be fried without breaking the cutlet. Secondly it does not taste like chole at all. In fact I got this idea while doing the Mediterranean falafels. Falafels are not spicy in the Indian style. So I went ahead and did some research and found one or two cutlets with chole. But most recipes cooked chole mashed them and made cutlets. The error with this method is that the chole will be mushy like boiled potatoes. This makes things messy when you fry. So I took a middle path I ground the chole like falafel raw after soaking them but tempered them with spices like a vada. But the end result was perfect cutlets. I tried other beans like red kidney beans and black eyed peas but had no luck. So chole cutlet is the best you can have.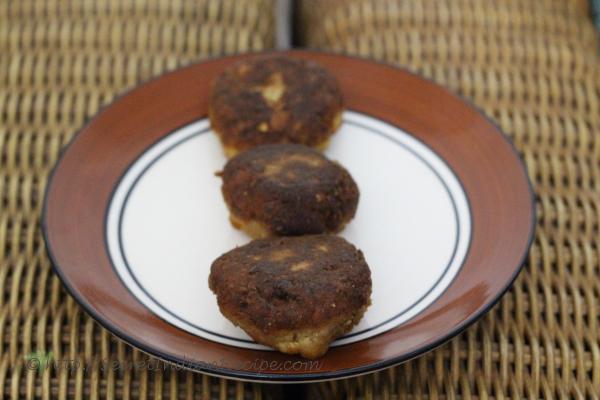 Ingredients:
Chole- 250g
Onion-2
Ginger- 1 inch piece
Garlic- 7 cloves
Green Chilies- 6
Curry leaves- 2 sprig
Turmeric Powder- 1/4 tsp
Chili powder- 1 tsp
Garam masala- 1/4 tsp
Cumin powder- a pinch
Salt- to taste
Oil- 1 tsp
Oil- for frying
Coriander leaves chopped- 1 cup
Lemon juice- 3 tsp
Directions:
Soak the chole for 8 hours. Wash and keep the chole ready for grinding.
In a pan heat the oil and saute the finely chopped onions, green chilies, curry leaves, ginger and garlic till they are brown.
Add all the spice powders and saute for few minutes. Add chopped coriander leaves, give a final stir and switch off the flame.
Grind the soaked chickpea with salt and lemon juice. Use little water and a pinch of cumin seeds and few cloves of garlic for better flavour though this is optional.
Once you grind the chickpeas you will get a coarse dough. Add the sauted spices to the ground dough and mix well. Check salt levels and adjust spices and salt if required.
The cutlets are now ready to shape. Use a bowl of water to help you shape perfect balls. Wet hands and form perfect balls.
Heat the oil for frying as you shape the balls. Flatten them as done for cutlets normally. Fry the cutlets till both sides are brown and drain them on a paper towel.
Serve with ketchup.