Chole Pulao (chickpea Rice)
This was an accidental discovery. I make a lot of lentils and legumes these days and after my chickpea cutlet I was still left with a lot of chickpeas. I did not want to make rice and curry so I thought I would give a twist to the chole by making a pulao out of it. While I was half way through cooking, I surfed online and found interesting versions for the same dish but I stayed loyal to my inspiration. This is a cross between my recipe on hariyali pulao and my biriyani recipe. I was generous with my use of herbs and everyone home agreed it tasted delicious. It was a Friday afternoon meal and I am extremely relaxed on Friday afternoon after my orders for the week so I believe this was an exceptional meal for the same reasons.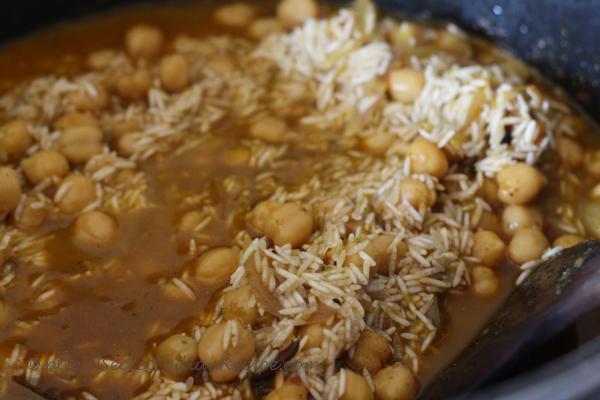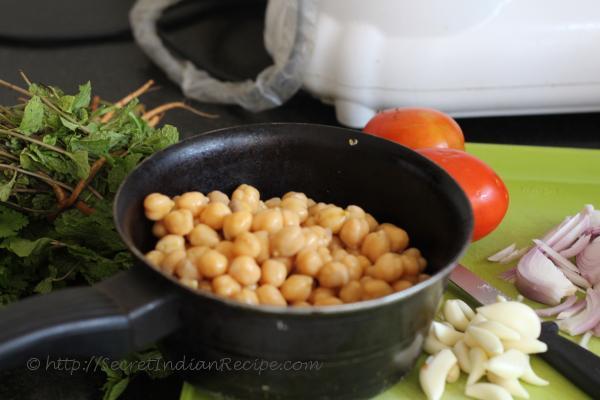 Ingredients:
Chole cooked- 250 g
Basmati rice- 2 cups
Onions- 2
Ginger-garlic paste- 2 tsp
Tomatoes- 2
Green Chilies-6
Curd- 1/4 cup
Cumin seeds- 1 tsp
Cloves- 4
Cinnamon- 1 inch long stick
Cardamom- 3
Bay leaf- 2
Peppercorns- 4
Oil- 4 tbsp
Turmeric powder- 1/2 tsp
Chili powder- 1 tsp
Garam masala- 1/2 tsp
Salt- to taste
Mint- 1/2 cup
Coriander leaves- 1 cup
Directions:
Heat oil in a pan and fry the whole spices and cumin seeds. Meanwhile wash and soak the basmati rice for 20 minutes in 2 cups of water.
Make a paste out of the onions, green chilies, tomatoes, ginger-garlic, mint leaves, coriander leaves and curd.
Once the whole spices have been roasted sufficiently such that they emanate a roasted smell, add the ground masala paste and saute till the masala is well cooked.
Now add all the spice powders and saute for another 4-5 minutes.Once the raw smell goes away add the cooked chole, salt and let the chole simmer.
Add the rice and 4 cups of water. Bring the rice to boil and let it cook under low flame till the rice is cooked.
Add a little more water if the rice has not cooked and all the water has evaporated. Garnish with mint leaves and serve with chilled curd and pickle.
Footnotes:
Cook the chole up to 2 whistles in 2 cups of water after soaking overnight.