Chole Salad
This salad will be liked by the Chaat lovers. Kids will love having it in evening time. I like it as it is easy to pack and carry and I often give it to my husband as evening snack or even with lunch.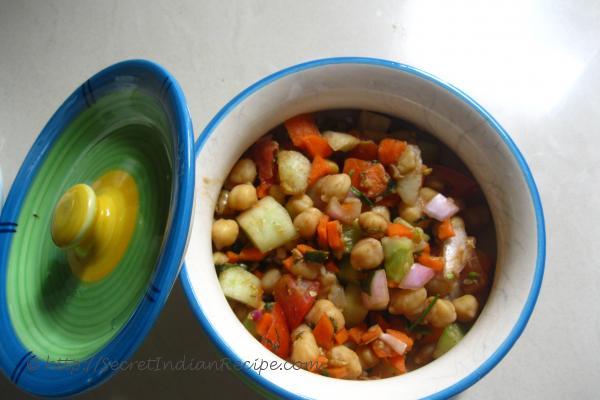 Preparation Time:
Soaking time 6-7 hrs, preperation time 5 minutes
Ingredients:
1 cup Chole (Kabuli Chana)- Soaked Overnight.
1 boiled Potato
1 small Onion- chopped
1 big Tomato- cut into small pieces
1 Cucumber- peeled and cut into cubes
1 tea spoon grated Ginger
1 Carrot- finely chopped
1 tea spoon Garam masala
1 pinch of Chat Masala
1 table spoon lemon juice
1 tea spoon dried and crushed Mint leaf.
Directions:
Wash the chole and put it in a pressure cooker with salt to taste. add required quantity of water and pressure cook upto 3-4 whistles. The chole must be cooked till it is done but should not be overcooked.
Drain the excess water and keep the chole on a perforated plate to dry it completely.
Meanwhile peel the boiled potatoes and cut it into small cubes.
Combine cooked chole, potatoes, tomatoes, onion, cucumber and rest of the ingredients in a large bowl and toss it.
Serve immediately.
Footnotes:
Garnish this with Imli chatni(Tamarind Chutney), Chopped coriander leaf and sev- it will taste like chaat.
After making the salad consume it immediately or else water released by salt, cucumber and tomatoes may spoil the taste.