Chole Tikkia Chaat (sweet And Salty Indian Snack Made Of Chickpea Curry And Potato Tikki)
' Chaat' is quite popular in India as an evening snack. It is always vegetarian and provides a good combination of taste – sweet, sour, salty and spicy. So if you are feeling low, just make an awesome chaat and enjoy. Here is a recipe that is good for your health and will cheer up your mood as well.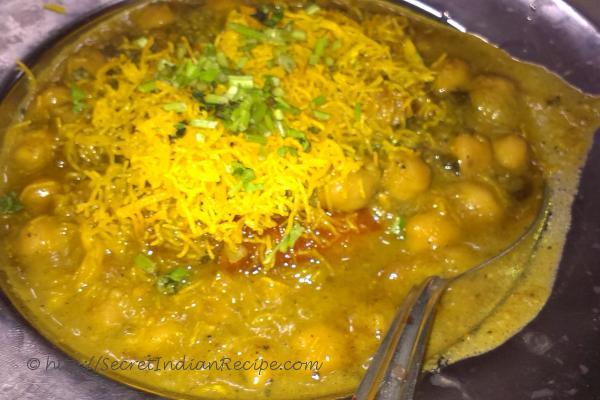 Ingredients:
(For Chole)
Chole (chickpea) – 150 grams (soaked overnight)
Onion paste – 1 onion
Ginger garlic paste – 1 tablespoon
Red chilli powder – ½ tablespoon
Channa masala powder – 1 packet (Available in market)
Salt -1/2 tablespoon
Mustard oil – 2-3 tablespoon
(For Aloo tikki)
Boiled Aloo (Potato) – 4 pieces
Coriander leaves – ½ cup (chopped)
Green chilli – 2-3 (chopped)
Garam masala powder – ½ tablespoon
Salt – ½ tablespoon
Oil for frying.
(For Chaat)
Tamarind sauce – 2 tablespoon
Chaat masala powder – ½ tablespoon
Coriander leaves – 2 tablespoon
Sev (thin besan snack) 3-4 tablespoon
Directions:
We can start with making chole first. Take a pressure cooker and heat oil in it.
Pour the onion paste and ginger garlic paste and sauté till the masala leaves the oil. Now add channa masala powder, red chilli and salt and fry for 2 seconds. Add the soaked chole (chickpea) and 1 cup of water and mix.
Now pressure cook it up to 5-6 whistles. Check if the chole is done.
To make aloo tikki, first take a bowl and mash the boiled potatoes. Add chopped coriander leaves, green chilli, salt and garma masala and mix well. Make 4 equal size aloo tikkis from this mixture.
Heat some oil in a pan and fry the tikkis till they turn golden brown.
Once Aloo tikki and Chole is done, we can make the chaat just before serving.
Take a serving plate and keep one aloo tikki at the centre. Pour chick pea curry over it. Now sprinkle tamarind sauce, chaat masala, chopped coriander leaves and sev on the top and serve.
Footnotes:
Tastes better when it is hot.....you can prepare it beforehand and just warm it before serving.