Chuda Ghasa Parfait
Chuda Ghasa is a traditional preparation from Odisha. It is usually prepared for Ganesh Chaturthi or Saraswati Puja. It is a coarse mix of beaten rice with sugar, ghee, cardamom and freshly grated coconut. Some people also add chopped fruits and boondi to it to enhance the taste. With this recipe, I have attempted to deconstruct it and serve it in the form of separate layers just like a parfait. But a much healthier and simpler one.
Easy to make and yet colorful enough to be served as a Holi Dessert !! Enjoy !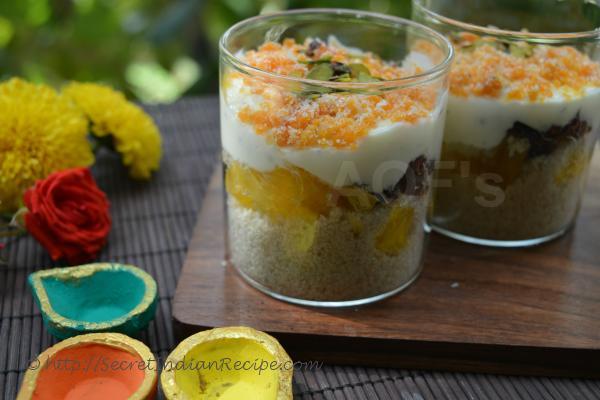 Ingredients:
1 1/2 cup Beaten rice
4 tbsp Sugar
1 tsp Ghee
2 tsp freshly grated Coconut
3 tbsp chopped Berries (I had only dried ones)
2 tbsp chopped Orange
1/2 cup hung Curd (greek yogurt)
1 tsp chopped Pistachios
1/4 cup sweetened Boondi ( or crumbled motichoor laddoo)
1-2 green Cardamoms
a pinch of Cardamon powder
a pinch of Saffron
Directions:
Take the beaten rice, 2 tbsp sugar and cardamom in a mixer. Give a buzz to get a coarse mix. Add the ghee and freshly grated coconut to the mixer jar and give another buzz. This is the regular chuda ghasa which looks like breadcrumbs.
Mix the hung curd with 2 tbsp sugar, a pinch of saffron and pistachios.
Mix the boondi/crumbled motichoor laddoo with the 2 tsp chuda ghasa.
Take two small glasses . Spread a thick layer of the chuda ghasa on the bottom. Top it with the oranges and chopped berries. Spread a layer of hung curd over it . Finally add a layer on boondi mix and garnish it with toasted pistachios.
Chill it in the fridge for 1-2 hours before serving.
Footnotes:
Want to make it more special for Holi ? Add some of the thandai mix into the Chuda ghasa :)