Chukandar Parantha ( Stuffed Beetroot Indian Bread)
A parantha that is colorful and tasty at the same time. It does not taste like beetroot and that is the best part about this parantha. Can also be made with a mix of grated radish and grated carrot.Kids will love this parantha for its color. If you find stuffing a problem then another option is pureeing beetroot and kneading the dough with it which will make the whole parantha pink.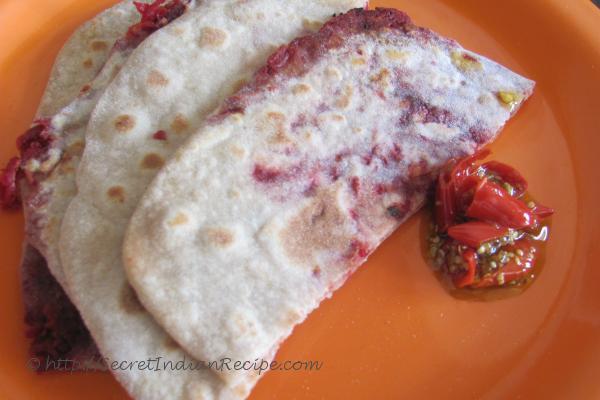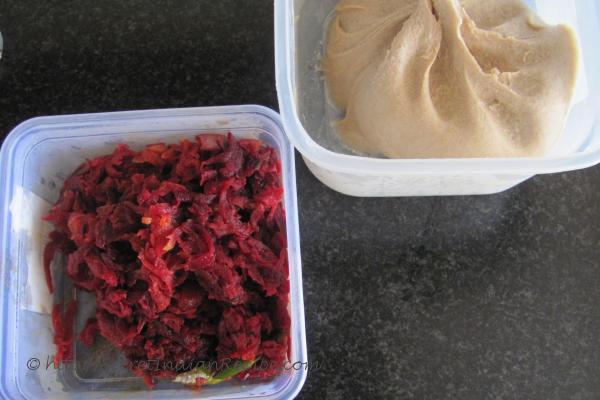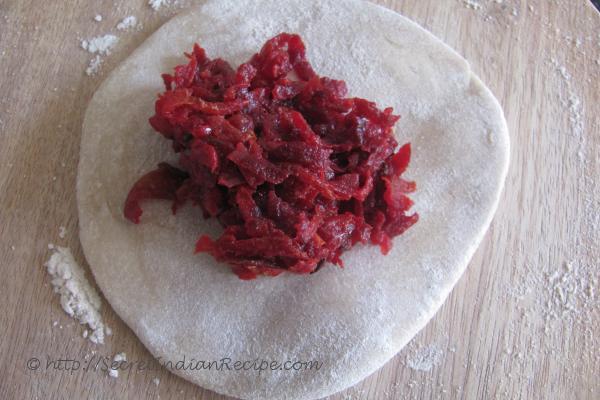 Ingredients:
Grated beetroot- 2
Onion- 1
Green chilies- 2
Cumin seeds- 1 pinch
Turmeric powder- 1/2 tsp
Curry leaves- 1 stalk
Salt- to taste + a pinch for the dough
Whole wheat flour- 1 cup
Water- for kneading
Butter- 1 tbsp
Directions:
To prepare the stuffing, peel and grate the beetroot. Pass the grated beetroot through a sieve to get rid of water content else it will be difficult while stuffing the paranthas.
Heat oil in a pan and add cumin seeds and curry leaves. When the cumin seeds splutter add the chopped onions and green chilies. Saute for 3 minutes before adding salt and turmeric powder.
Saute till the beetroot is cooked this would not take more than 5 minutes because the beet root is finely grated and hence will cook fast.
Switch off the flame and let the beetroot stuffing cool down.
Make a dough with the whole wheat flour, salt and water. Knead it into pliable dough.
Let the dough rest for 15 minutes. Now make small balls of the dough.
Flatten the small balls like discs and fill each disc with stuffing. Roll it carefully into a ball without letting the stuffing seep out.
Roll the balls slowly into round pancake size rotis and cook on a girdle both sides with a little butter on both sides.
Use a wooden spatula or a small cloth to puff the sides of the parantha by pressing against the surface. Cook over low flame so that the parantha gets cooked.
Serve with curd and pickle.